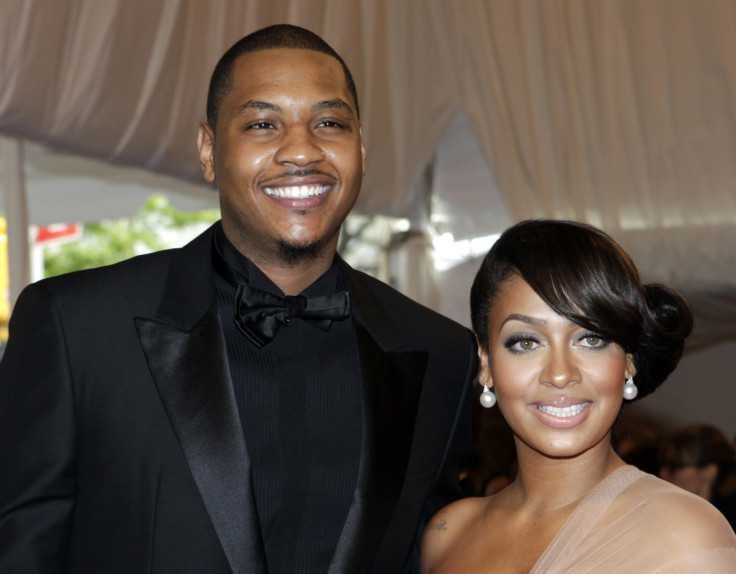 Their marriage has been rocked by cheating rumours but LaLa Anthony and her NBA player husband Carmelo Anthony are still going strong. In the midst of claims that the Power actress has been having an affair with another man, the couple have declared their love for each other on Instagram.
Speculation mounted as to whether or not LaLa, 36, has been cheating on the LA Lakers player with US rapper Maino but the Think Like A Man actress decided to shut down the rumours once and for all. In a video posted on Instagram, LaLa and Anthony, 31, can be seen recreating the music video for Nicki Minaj and Meek Mill's single All Eyes On You.
As Anthony sits on the bed, LaLa can be seen mouthing the words to the song, which include: "Now it's all eyes on us, and this all lies on trust." LaLa captioned the video "all eyes on us" with a heart emoji. The scandal emerged after Maino's ex-girlfriend Patrice E accused LaLa of attending a movie date with the hip hop star and then sleeping at his house.
Patrice, who is believed to have a child with Maino, commented under a photo on LaLa's Instagram: "How does it feel to be the s**t responsible for his daughter never waking up to her father again. @lala does your husband know that your h*e a*s has been f *****g my daughters father. That you slept over his house the other night after the movies."
Another comment left under a second photo reportedly read: "Your [sic] a disgrace to women everywhere. Typical married s**t. @carmeloanthon." A source has refuted the allegations, telling the New York Post's Page Six that the relationship between LaLa and Maino is platonic. "They've been friends for a very long time. [Patrice] is jealous of their friendship, but there's no truth to her cheating with him at all," the insider said.
Representatives have also denied the claims, with LaLa's publicist stating: "I can confirm this is absolutely not true," and Maino's adding: "All rumours are false." Maino appeared to indirectly address the accusations via Instagram, posting a message which read: "Believe half of what you see... and nothing that you heard. My day ones is A1. Friendship."
LaLa and Anthony married in 2010 and are parents to their eight-year-old son Kiyan. Anthony has been accused of cheating on the former reality star and MTV presenter several times in the past but all allegations proved to be false.