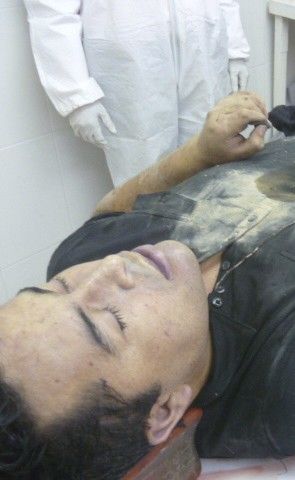 Mexican authorities are to exhume Heriberto Lazcano's parents and obtain DNA samples to convince the public that the drug lord is actually dead.
Lazcano, aka El Lazca or El Verdugo - The Executioner - was reportedly shot dead by the Mexican Navy earlier this month.
The killing had been praised by authorities as one of the greatest victories thus far in the war on organised crime, launched by President Felipe Calderon in 2006.
However the dead body of the alleged leader of the powerful Los Zetas gang was snatched by an armed commando from a funeral home in the northern Coahuila state, while police were still awaiting the results of fingerprint identification.
Fingerprints eventually confirmed the dead man was El Lazca, but the body's disappearance, together with some major flaws in the official account, triggered a wave of speculation by bloggers and official media, claiming he was still alive.
Lazcano had already been reported dead erroneously, following a shootout in 2007.
To put an end to the rumours, the head of Mexico's organised crime unit, Cuitlahuac Salinas, said authorities decided to exhume Lazcano's parents from their graves in the south-eastern state of Hidalgo to obtain DNA material.
"We have located where his parents were buried and we are now trying to get permission to begin the exhumation, in order to ascertain their genetic profile," Salinas told reporters.
Salinas said that authorities initially tried to track Lazcano's sisters, who are still alive, but the women couldn't be found so they decided to proceed with the exhumation.
"Unfortunately, both parents died many years ago, and that complicates things."
Salinas did not disclosed what Lazcano's parents' DNA will be compared to, since the drugs boss's body is still missing. However it is believed that samples of his blood were saved during the autopsy conducted shortly after his death.
Lazcano was one of the most wanted men in Mexico. Aged 38, he enlisted in the army when he was 18 and quickly became a member of the country's elite Special Forces.
Six years later he deserted the army with fellow special corps members and went into drug trafficking, offering his military expertise to the Gulf Cartel.
In 2010, his group of army deserters broke away from the cartel and formed the Zetas, sparking a bloody turf war.