Leaked schematic drawings for the iPhone 6 show Apple's next smartphone will be visually almost identical to its predecessor.
The plans show a handset that has a footprint of 138 x 67mm – exactly the same as the iPhone 6 – and a thickness of 7.1mm, 0.2mm thicker, which is the same as the larger iPhone 6 Plus.
It has also been revealed by the leak, which was first published by Engadget Japan, via a "reliable source of China", that all buttons, ports, cameras and sensors will remain in the same place for the next handset, which some speculators are calling the iPhone 7.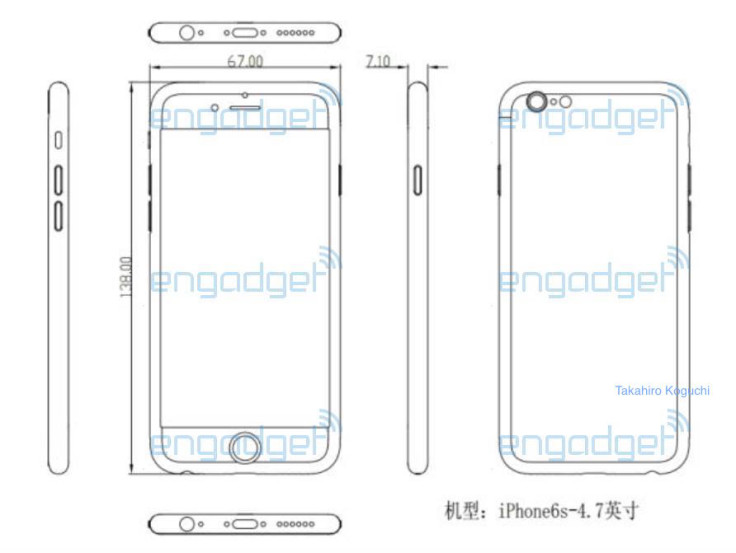 The imperceptible change in thickness could be down to Apple using slightly thicker aluminium for the new iPhone, combating the "bendgate" fiasco, where iPhone 6 and 6 Plus owners reported their handsets were bending when in their pockets.
Apple is following a tried-and-tested routine with the iPhone 6s where the "s" version is visually identical to its predecessor, but has a number of internal changes to make it an attractive upgrade. The biggest feature is expected to be a Force Touch display, which will measure how firmly a user is pushing on it, giving game and application developers a new way to let users interact with their software.
We expect to see Apple announce the iPhone 6s on 8 September before putting it on sale 10 days later. Although we expect reports to be fairly accurate this stage – given the phone will soon be entering mass production – some details remain hazy.
Storage is a key factor yet to be finalised, as a report claiming the iPhone 6s will offer a minimum of 32GB – double that of the iPhone 6 – was contradicted days later by the ever-reliable 9to5Mac, which claims to have iPhone 6s components in-hand, and they include a 16GB storage module.