Leaked gameplay footage from the highly anticipated No Man's Sky has made it onto adult video sharing site Pornhub after being taken down from other popular video hosting websites.
Not content to simply wait until next week (10 August) to play the space-set survival game, one user decided to buy a leaked PS4 copy of the game on eBay for $1,300 (£982) on 29 July. He then uploaded footage of No Man's Sky opening sequence, as well as 24 minutes of gameplay, to Dailymotion.
Before the video was taken down, users downloaded the source video and uploaded the videos to other sites such as YouTube and Vimeo. Once those were taken down the content was uploaded to Pornhub, where it has now been viewed over 12,000 times, as of 3pm BST on 1 August.
The leaked videos were taken down down over the weekend, as the game's creative director Sean Murray asked fans to avoid looking at spoilers, saying on Twitter: "We've spent years filling No Man's Sky with surprises. You've spent years waiting. Please don't spoil it for yourself :( Take a break from reading about it, and picking vids apart. You can experience for yourself so soon."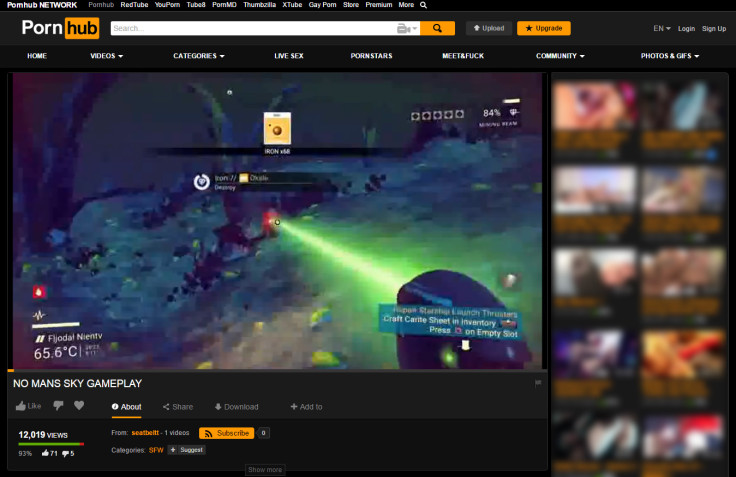 This isn't the first time that Pornhub has been used to host copyright infringing, leaked content – in 2015, prior to the launch of Bethesda's hugely successful Fallout 4 video game, multiple videos were uploaded through Pornhub after YouTube took them down, but at least these videos had fake titles that made them easier to spot, such as one video, which according to the Independent, was called, "Hidden camera shows audience teased by big butt man in tights live".
In contrast, the leaked No Man's Sky footage on Pornhub is easily identifiable as being non-porn content as its title reads, "No Mans Sky Gameplay".
IBTimes UK contacted Pornhub and its owner MindGeek to find out why the adult video sharing website has not taken the video down, despite it clearly infringing copyright and being completely unrelated to adult pornographic content, which is the site's mainstay.
In response, Corey Price, VP of Pornhub said: "The video has been removed from our site. As indicated in our terms of use, we do not allow for the uploading of copyright infringing material to our site and will remove any such content from our platform as soon as we are notified of its existence. That being said, we do welcome content of any nature on Pornhub, so long as it adheres to our terms of use."
For all the latest video game news follow us on Twitter @IBTGamesUK

[UPDATE] 5 August 15:08 BST: This article has been updated to include comment from Pornhub about the leaked No Man's Sky video footage.