No Man's Sky developer urges fans to experience it for themselves and avoid leaked gameplay footage
'We've spent years filling No Man's Sky with surprises. You've spent years waiting. Please don't spoil it for yourself,' Murray tweets.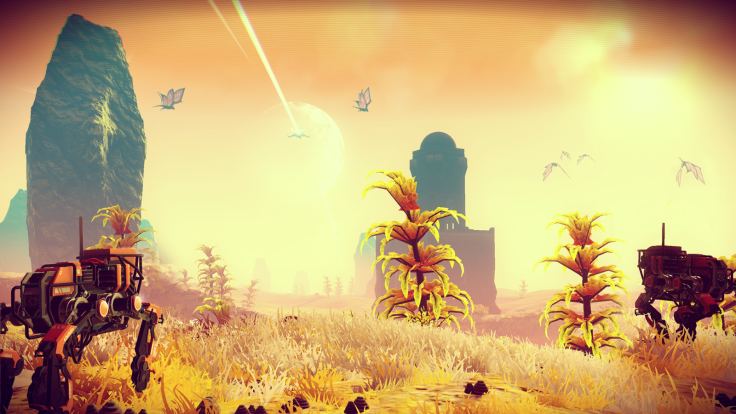 Soon after Reddit user Daymeeuhn posted videos of Hello Games' No Man's Sky on Dailymotion, the founder and creative director Sean Murray has urged fans to avoid spoilers and wait to experience the game, which is still a couple of weeks away from its release, for themselves.
Daymeeuhn reportedly spent $1,300 (£982) to buy a copy of the space exploration sim on eBay and leaked the footage of the game's PS4 version on Dailymotion including its opening sequence and 24 minutes of gameplay. He also posted a video of himself opening the FedEx package containing the game, installing it on his PS4 and opening a bottle of champagne to celebrate this.
In a lengthy explanation explaining his exorbitant purchase and decision to post the spoiler videos two weeks before the game's official release, Daymeeuhn writes that while some people excessively spend money on collector's items, food and liquor, he spends his on "this experience."
"I'm a gamer that enjoys the journey," he wrote. "For me, the idea of secrets and puzzles that lack google-able answers is super thrilling. I love it. My best gaming experiences have been when I've received games before street date, knowing I was truly on my own in the universe of that game, and no matter how tempted I might be to ask a friend for help or check a website for a tip or cheat, I CAN'T because it doesn't exist."
"It's all you, you're representing everything there is in that moment of the game. If NMS is crack for everyone here in this reddit, the idea of an early experience with zero information surrounding it is the equivalent of the purest, uncut and unfiltered crack money can buy for me. This is it for me, this is the nut high."
Reacting to this, Murray in a tweet said, "We've spent years filling No Man's Sky with surprises. You've spent years waiting. Please don't spoil it for yourself."
"Take a break from reading about it, and picking vids apart. You can experience for yourself so soon."
Shortly after Murray's tweets of disappointment in the entire incident, Daymeeuhn edited his Reddit post saying he felt guilty and did not want to be the one to spoil the game for both the developers and anxious fans.
"HG and Sean don't like it, it's giving me a headache dealing with the fallout, I don't want to be the guy that spoiled all this cool shit, and I'm just leaving it at that!" he wrote. "I hope you like those first videos! But for now, I'm going to just play the game, keep to myself and enjoy it."
"Spoilers will come, one way or another. It may not be from me, but it will be from someone. But I wish no one ill will. I just wanted to share the discovery with you all."
The videos have since been removed from Daily Motion. However, as expected, they are being uploaded again by other users on YouTube and other sites.
"I expected Sean to tweet negatively about it because, let's face it, it's his job to...But I'll admit, after watching so many of his interviews and knowing how cool of a guy he seems, it did make me feel a bit guilty," Daymeeuhn told Kotaku. "It wasn't the sole reason for my decision, but it was certainly a factor."
© Copyright IBTimes 2023. All rights reserved.