At least 10 people have been killed and thousands ordered to leave their home as mass fires ravage parts of California's wine region.
A state of emergency has been declared in Napa, Sonoma and Yuba counties, north of San Francisco Bay and about 20,000 people have fled their houses as firefighters tackle the blazes that have destroyed buildings and threaten homes.
Of the dead, seven were from Sonoma County, one in Mendocino County and two in Napa County. The San Francisco Chronicle reported that more than 100 people were treated for injuries which included burns and smoke inhalation.
Napa County, fire chief Barry Biermann said the fires had burned more than 68 square miles and said: "Right now, with these conditions, we can't get ahead of this fire and do anything about the forward progress."
The biggest city in the region at threat from the fire is Santa Rosa which has a population of about 175,000.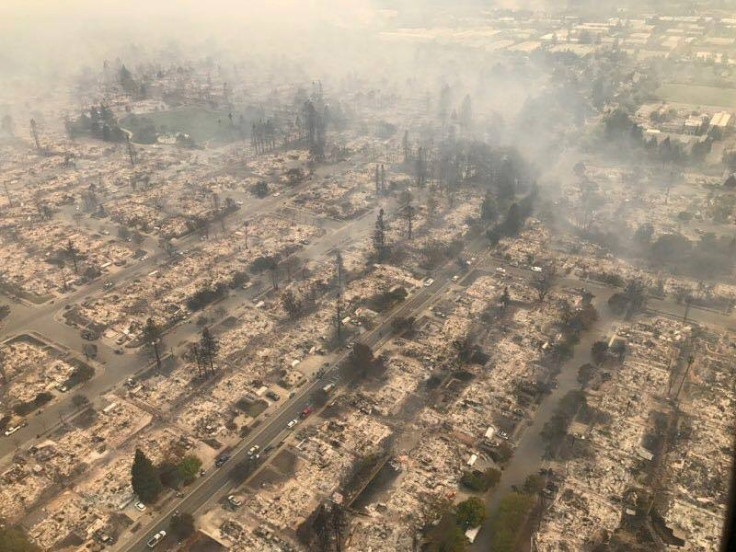 Jeff Okrepkie from the city told Associated Press: "We live in the valley, where it's concrete and strip malls and hotels and supermarkets.
"The last thing you think is a forest fire is going to come and wipe us out."
Smoke was thick in San Francisco, around 60 miles south of the fire in Sonoma County.
California Department of Forestry and Fire Protection director Ken Pimlott said: "Imagine a wind-whipped fire burning at explosive rates. This is 50 miles per hour.
"Literally it's burning into the city of Santa Rosa... burning box stores," Sky News reported.
There are estimates that tens of thousands of acres have been destroyed in at least 14 fires, and comes after Los Angeles suffered its largest wildfires in history in September.