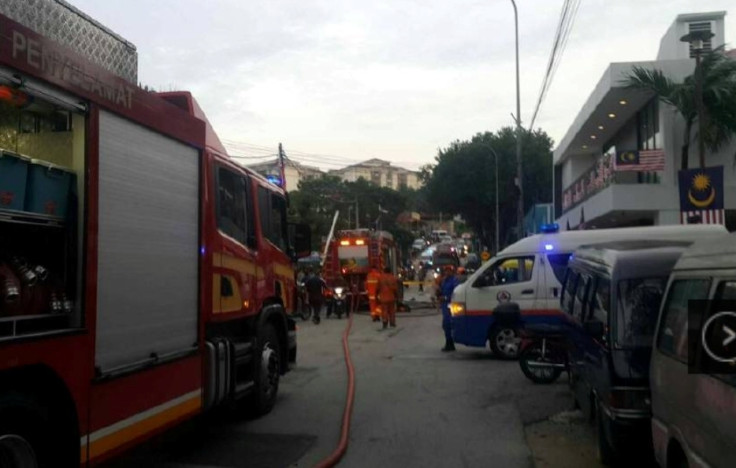 At least 23 students and two teachers have lost their lives after a fire broke out at a religious school in the Malaysian capital of Kuala Lumpur.
According to reports, the fire started at about 5.40am local time (10.40pm BST) at Tahfiz Darul Ittifaqiyah in Jalan Datuk Keramat outside a room on the second floor and soon trapped the students and teachers inside.
City police chief commissioner Datuk Amar Singh said that the partially burnt bodies of the students and teachers were found piled on top of one another in the room. It was also found that most of the victims died of suffocation.
"The fire is believed to have started right at the door of the room preventing any chance of escape," Singh was quoted as saying by The Star Online.
He said that it's too early to say how the fire started but added "the Fire and Rescue Department and police will investigate it thoroughly. We can rule out foul play based on our investigations so far".
Initial pictures and videos of the incident showed the entire upper side of the school catching fire. They also showed emergency workers trying to control the blaze.
Later images showed charred beds inside the school and scorched windows on the top floor. It was also reported that a number of students and teachers who successfully managed to escape the fire were immediately rushed to a hospital.
They reportedly suffered a number of serious injuries and smoke inhalation problems. "They were sent to the Kuala Lumpur Hospital for treatment," Singh said.
Prime Minister Najib Razak has expressed his sympathies to the families of the victims and tweeted that the matter will be investigated quickly "so that we will be able to prevent future disasters".
Khirudin Drahman, director of the fire and rescue department, told AFP that the tragedy was "the country's worst fire disasters in the past 20 years".
"It really does not make sense for so many to die," he added.