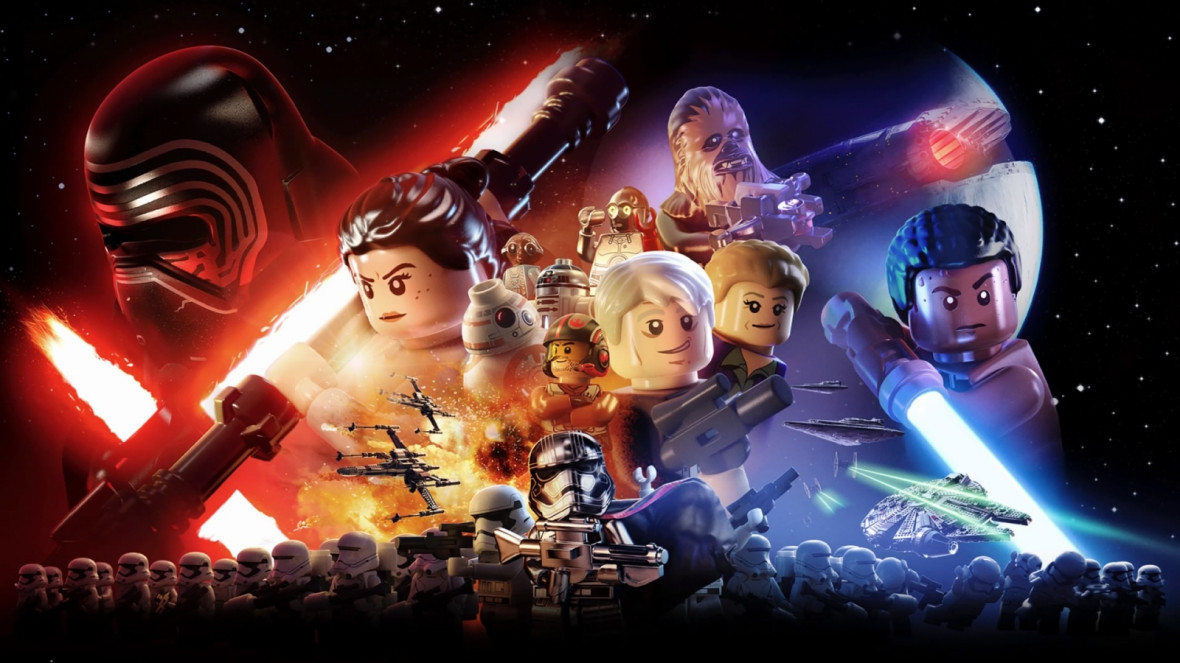 Lego Star Wars: The Force Awakens
Platforms: PS4 (tested), Xbox One, Wii U, PC, PS3, Xbox 360
Developer: TT Fusion
Publisher: Warner Bros
Release Date: Out Now
Playing a Lego game reminds of the ephemeral moments of hope during my fleeting, but nonetheless soul-destroying cameo working for a certain video game retailer. Between pushing naff peripherals and seeing hundreds of little Timmys beg their mums to buy them the latest shoot-the-man-in-the-face simulators, there was always an occasional person that drew me back from the hollow void by actually asking: "What game would be good for my child?"
For full disclosure I was obviously never on Traveller's Tales' (TT) payroll when recommending the latest flavour of brick-ified pop culture platformer, but something always rang true about its combination of aggressively simple gameplay, nostalgia-poking visual style and delicately offbeat humour.
While there have been other Lego video game success stories throughout the years, the Lego Star Wars titles of the mid-2000s cemented the UK studios' patented formula – transforming its Lego franchise into a bonafide video game institution in the process.
Lego Star Wars: The Force Awakens sees Traveller's Tales' legacy (now helmed by the subsidiary studio TT Fusion) come full circle with the re-introduction of lightsabers and force powers into its studs, studs, studs and more studs oeuvre, and yet somehow any pangs of apathy toward the studio's oversaturated formula are abated from the off.
For a Star Wars addict that could partly be down to the fact that this is about as close as we are going to get to a fully-fledged The Force Awakens movie tie-in. The level of detail and authenticity is nigh-on staggering. Whether it's BB-8's posture and digitised exclamation when hitting full throttle, the seamless ebb and flow of John Williams' score with the action, or the use of dialogue samples from the film itself – this is a galaxy far, far away that will hit very close to home for fans.
Fresh lines have also been recorded solely for the game, with John Boyega, Daisy Ridley and even Harrison Ford and Carrie Fisher among those to reprise their iconic big-screen characters in mini-fig form. Hearing Rey spout incidental phrases like "that sounded smashy" is lovely and all, but listening to her explain what a 'Luggabeast' is to BB-8 fits alongside the canon-expanding side-missions to add an extra bit of appeal for Jedi scholars.
As for the characteristic humour? While there are a few too many running gags at times, the majority of the childish chuckles hit home with force (pun definitely intended). The youth-friendly alterations are particularly enjoyable such as how Finn's blood-stained helmet from JJ Abram's movie is instead smeared with vegetable juices, but whether it's Stormtroopers taking selfies or First Order officers discussing exposed Death Star shafts and the associated responsibility of their workers union, there are plenty of jokes worthy of a wry smile here.
Unfortunately for The Force Awakens, while previous Lego Star Wars games had the luxury of sourcing its level-inspirations from entire trilogies, TT Fusion's latest effort sometimes plods under the weight of having to stretch out sequences from the source material that lasted less than a several minutes on-screen. Thankfully, the gameplay has a few Jedi mind tricks up its sleeve to ease what could plunge the instances of arbitrary padding into a monotonous slog.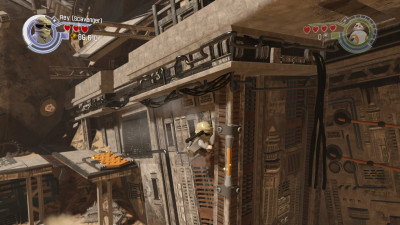 The same collect-a-thon, environment-smashing and platforming-lite sections that characterise the Lego franchise are present and accounted for, but there are several noteworthy tweaks. Chief among the changes are the "Blaster Battles" which surmounts to brief interludes of basic third-person cover-shooting and high-speed spaceship dogfights. The latter in particular is a stark improvement on the awful isometric minikit nightmares that infected the first two Lego Star Wars titles. The mix of on-rails Starfox-like asteroid-dodging escapades and the Rogue Squadron-lite arena-based sections are far from the galactic warfare fans are likely craving on a broader scale, but it's the best we'll get until Dice's Battlefront follow-up inevitably re-introduces space battles as a 'new feature'.
"Multi-Builds" fare less favourably however. Ostensibly a way to add extra interactivity to the fine-art of holding down a button to build a thing out of Lego, the multiple-choice construction sets instead suffer from a control scheme that doesn't seem to understand which direction a control stick is being pushed toward. Watching a tiny Han Solo half-build a switch, then a platform and a switch again all thanks to the game confusing what 'up' means is a tad out of character and more than a little frustrating for the player.
Seeing a minifig unwittingly act-out an existential crisis isn't the gravest of Lego Star Wars: The Force Awakens' problems though, not when there are several infuriating progress-halting bugs. I encountered two during my playthrough, both of which sent me straight back to the start of each (fairly lengthy) chapter. In one instance Rey decided that sliding under an object was less preferable than being stuck sliding on top of it for all eternity, while the other saw a cutscene grind to a halt leaving me to stare blankly at an otherwise hilariously irate General Hux avatar rehearsing his 'fictional dictator of the year' speech in brick-form.
Our verdict
Lego Star Wars: The Force Awakens
Aside from these bothersome technical hiccups and an overall feeling that what's here would possibly be better suited to a trilogy-spanning release (or at least waiting to include content from the upcoming Rogue One film), Lego Star Wars: The Force Awakens is an infectious joy. The franchise-in-Lego concept is a little long in the tooth at this point, but for those who have taken a break from TT's nostalgia-baiting charm-fests or anyone who classes themselves as an ardent Star Wars-aholic, there is more than enough block-busting action and nudge-and-wink chortles here to please both young and old alike.