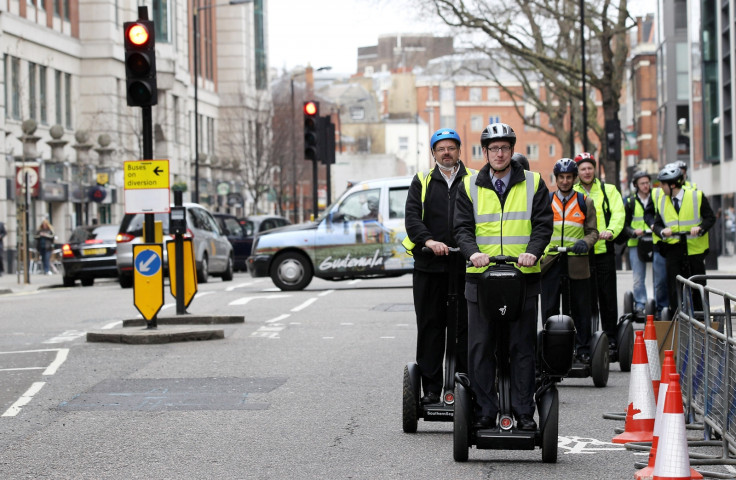 Lembit Öpik may have ceased being an MP five years ago and while his tabloid fame with one-half of the Cheeky Girls may be a fading memory it appears the former politician will always have a niche as a Segway campaigner.
While it is not exactly clear what Öpik has been up to since 2011 he has been trending on twitter after intervening on behalf of the Segway on Radio 4's Today programme. The battery-powered electric vehicle invented by Dean Kamen in 1999 has come under fire after a photographer riding one took out Usain Bolt at the World Athletics' Championships in Beijing.
Öpik's basic argument it would seem: Segways don't nearly end the careers of world-beating athletes - people do.
"Segways are safe!" Opik wrote on twitter. "Segway mishaps by Piers Morgan, George W. Bush & a careless snapper only prove that sense is not common: save the Segway!"
Piers Morgan fell off a Segway, and broke three ribs in 2007. George W Bush also fell off one of the electric contraptions in 2003 when he tried to ride it but forgot to turn it on. He escaped the incident without injury.
Bolt, who trounced his rival Justin Gatlin in the 200m final in Beijing just before the accident is said to be fine.
"It didn't actually hit me in my Achilles, it hit me in my calf area," Bolt said. "It's all right, I will get over it. Never a doubt [for the relays], never a doubt. I am just going to get it massaged, ice it up a bit and I should be fine."
Bolt added: "The rumour I'm trying to start right now is that Justin Gatlin paid him off."
Gatlin too appeared to see the funny side replying to Bolt's dig: "I want my money back."