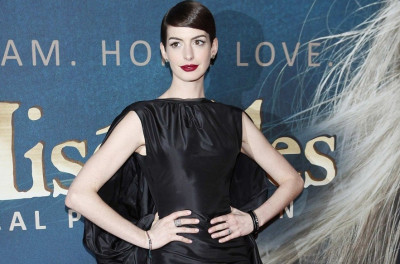 All eyes were on Anne Hathaway as she arrived at the New York premiere of Les Miserables held at the Ziegfeld Theatre.
The Dark Knight Rises Star, who recently walked down the aisle with her long-time boyfriend, actor and jewellery designer Adam Shulman, wore a black taffeta cape-back Tom Ford Spring 2013 dress with a thigh-high slit. She wore knee-high bondage-style Tom Ford boots, Fred Leighton jewels and wound up her looks with dark red lips.
Les Miserables is based on the musical with the same title by Alain Boublil, Claude-Michel Schönberg and Herbert Kretzmer, which in turn was an adaptation of the 1862 French novel by Victor Hugo.
The film has Hugh Jackman (Jean Valjean) as an ex-prisoner and Russell Crowe (Javert) as the policeman. The 30-year-old American actress lost 25 pounds to play the role of Fantine, a starving, tuberculosis-affected prostitute. She cut her beautiful tresses and sported a famished physique which she joked she achieved by subsisting largely on a diet of "kale and dust". According to her November Vogue profile, she "remains very thin, though not unhealthy-looking."
"I had to be obsessive about it, the idea was to look near death," Hathaway said of the dieting. "Looking back on the whole experience, and I don't judge it in any way, it was definitely a little nuts. It was definitely a break with reality, but I think that's who Fantine is anyway."
She met her female co-stars Amanda Seyfried, Isabelle Allen and Samantha Barks at the event.
Seyfriend, who plays Fantine's daughter Cosette in the film, opted for a strapless Alexander McQueen gown, featuring a gold embellished bust and black flowing skirt, with a tortoise-shell belt with a gold buckle. She topped her looks with an Alexander McQueen clutch, Harry Winston jewels and slicked back her hair in a Heidi-style plaited bun.
Barks was spotted wearing a Stella McCartney dress and Jimmy Choo shoes. Comedian Sacha Baron was also present at the event looking trim in a black suit, white shirt and red tie.
Les Miserables will hits theatres on 25 December and tickets are already on sale on Fandango.
Take a look at the celebrities who walked the red carpet at the Les Miserables New York City premiere: