American actress Lindsay Lohan has revealed she would like to meet with heads of state to try and solve the Syrian refugee crisis.
Top of her dream guest list would be US President Donald Trump and Russian President Vladimir Putin.
Speaking during a Facebook Live chat with DailyMail.com, the former child star explained: "I want to try to get the word out to Donald Trump bring him over there [to the refugee camps in Turkey] have him see all the positive things they are doing over there and all America can do to help as well…
"[I want to meet him] to broaden his ideas of it because he hasn't been there and show America in the right light, helping the refugees…
"It is one world that we live in and we have to work together… I think it would be a positive thing for America to show their care and support… And for him to experience what it's like for these people."
The Mean Girls actress continued: "Angelina Jolie… Donald Trump… Putin – the more strong figures we have [the better].
"Brad Pitt… maybe someone like Rachel McAdams – the more the merrier in this situation…"
Lohan recently visited Syrian refugee camps in Turkey.
She also met with Turkish President Recep Tayyip Erdoğan.
Reflecting on the experience on Instagram afterwards, she said: "What a dream it is for Mr President Erdoğan and The First Lady to invite me to their home. Their efforts in helping Syrian refugees is truly inspiring."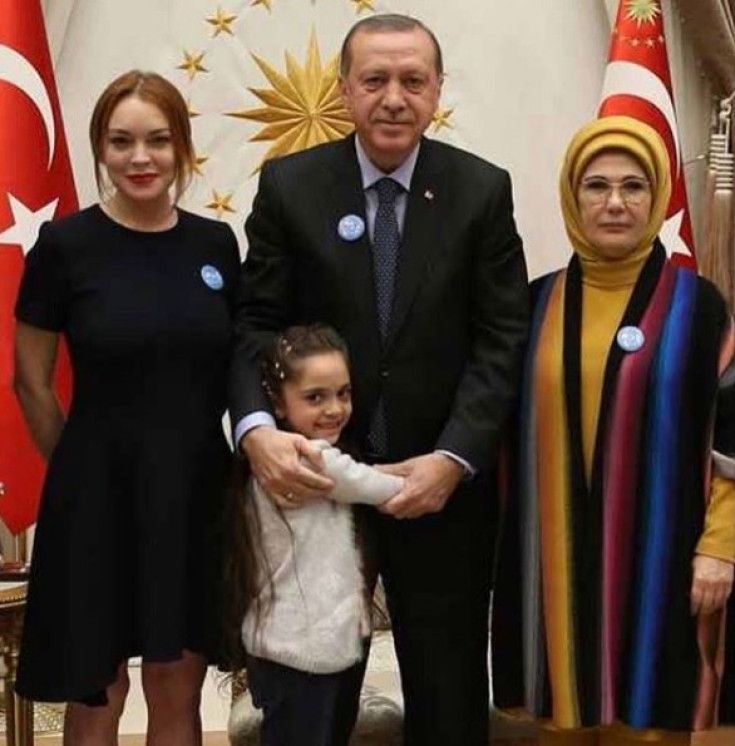 Last year the caring A-Lister visited Syrian refugees at a hospital in Istanbul, and a camp in Turkey's south-eastern Gaziantep province.
Elsewhere, Lindsay sparked reports that she had converted to Islam last month after posting a message in Arabic on Instagram.
She deleted all of her content from the site and posted a new profile bio which simply had the message "Alaikum salam" – Arabic for "And unto you peace".
However, a source close to the star says the story is fake.