Brendan Rodgers has admitted that Luis Suarez is badly needed in the Liverpool line-up at present, with the striker providing the only senior experience up front while Fabio Borini continues to recover from injury.
The Reds' struggles in the striking department have been widely documented in recent months, and as Rodgers admitted he would need to look into the January transfer market for a player to replace Andy Carroll, Suarez has had to step up and take the lead up front.
While he hasn't always been successful in winning matches for the side, and has courted controversy off the pitch, Rodgers is confident that Suarez has what it takes to handle Liverpool's goal scoring pressure while the club continues to improve.
"He's a breath of fresh air with his enthusiasm," Rodgers told Liverpool Echo. "He's our only fit senior striker. He was tireless against Reading and then we played a strong team to get a result against Anzhi.
"Many probably thought the condition of the team and Luis in particular up front would waver a little bit. But the conditioning of them all and him in particular was amazing.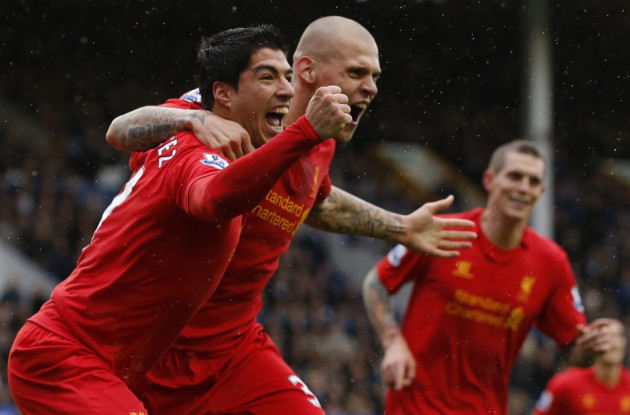 "He's a wonderful talent who will always provoke comments both positive and negative.
"He's inspirational for the group because he works hard every day and he's a genuinely world class striker. It's a privilege to work with him."
Talk has been rife that Suarez might become frustrated with the intense scrutiny that has followed him at Liverpool, but Rodgers is confident the Uruguayan is happy in England and has no plans to leave.
"I speak with Luis regularly and he loves playing English football," he explained. "He loves the passion and the excitement of the game over here.
"He's a player who is mentally very strong. We've seen that during his time here with the amount of stick he has taken.
"It's a driver for him. It motivates him. He loves being at Liverpool. He loves the city, he loves the club, and loves the supporters so I can't see him wanting to go."
While Suarez is Liverpool's top scorer this season, with eight goals so far, his shots on goal far outweigh that figure, leaving a lot of potential to be fulfilled if he can start hitting the target more often in this campaign.