Vito Mannone has claimed that he will bring a huge fight to Wojciech Szczesny for the number one goalkeeping spot at Arsenal, with the Italian hoping to continue to show his worth for the squad while his counterpart recovers from injury.
Mannone was given his chance for the Gunners against Stoke and Liverpool, while Szczesny continued to struggle with a rib injury. Meanwhile, Lukasz Fabianski also failed a fitness test with a back problem.
And the 24 year old says that he has been improving a lot through his experience with the first team, and wants to show his teammates that he is capable of playing for Arsenal's senior squad on a regular basis.
"I think I have improved in every part of the goalkeeper position," Mannone told the Arsenal website. "In my mind as well, I came back stronger and stronger [from my loan spell].
"Especially after the mistake at Olympiacos - it's never easy to come back, but when I've got my back against the wall, I don't mind. I just roll up my sleeves and try to work because I know I can do well.
"It's a good fight between the keepers because we know the level is quite high and you need to keep working and improve yourself to get the first spot."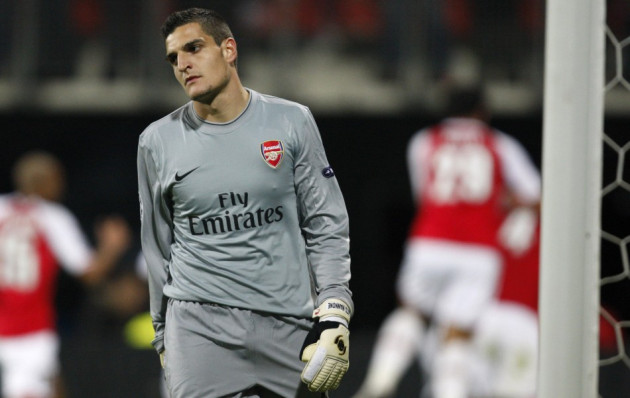 The position of goalkeeper is particularly difficult for a manager to balance, obviously because there is only one place that can be used, and a club will often not change players while a stopper is on a roll.
And Mannone admits that he faces a tough battle to get ahead of Fabiansk and Szczesny, with Arsenal hoping to create more continuity in their defensive line-up.
"The most important thing for a keeper is to play," he explained. "Only one plays and it's difficult for the ones not playing because you lose your sharpness, your game time, your game experience. So when you do get on the pitch it's not easy [to be at your best straight away].
"It's been a great experience [at Arsenal]. Most of the boys are new and I feel like an old one even though I'm 24! I know the place and everybody here and I'm really happy when I'm involved, like now. I would like to be involved more and more and establish myself."