Amazon has removed a book from its online store after complaints that it was a "step-by-step manual to rape".
Vincent Vinturi's LMR Exposed: How To Overcome Her Last Minute Resistance To Sex, Turn 'No' Into 'Yes' And Get The Lay gives men tips it alleges cuts through a woman's "Last Minute Resistance [LMR]" like a "hot knife cuts through hot, creamy butter".
The book, which was available on Kindle, gives tips on how to convince women that resistance "ridiculous" along with a "sneaky psychological technique that busts through LMR without her even knowing".
The book has been widely condemned on social media as being a "guide to rape" and sparked demands that it be removed from sale.
"Surely if race hate is censored from Amazon, then a book which encourages rape should also be," one user wrote in the book's review section.
Amazon took down the link to the book and removed the item from its search.
IB Times UK attempted to reach Amazon for a comment, but a spokesperson only confirmed: "This title is not available at Amazon.co.uk".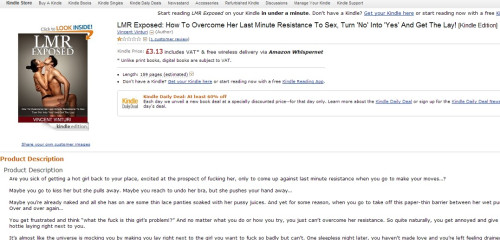 The author previously came under criticism for writing a post for Return of the Kings, a blog aimed at "heterosexual, masculine men".
The post, When Her No Means Yes, discussed how woman often say no to situations when in fact they mean the opposite.
In the article, Vinturi wrote: "She can be saying 'no' with her words and even with her situational body language. But if you've been unmistakably clear about your sexual intent and then she comes to your room, she is open to being seduced. Otherwise, she wouldn't be there.
"If a girl isn't open to being seduced she will either not come in or will precipitate hastily from your room. Anything short of that is a green light."