Detectives from Operation Podium have arrested a 45-year-old man from Walton-on-Thames on suspicion of fraud by misrepresentation.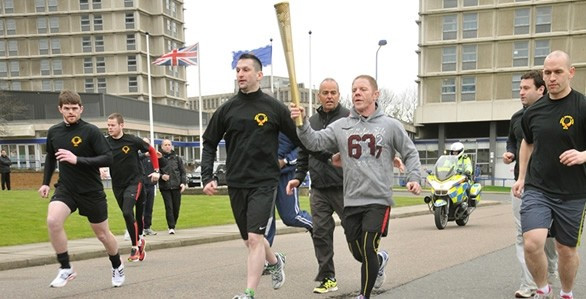 The arrest in Surrey is part of an on-going investigation into an Olympic ticket and accommodation fraud relating to the websites Globalticketmarket.com and Shortlettingslondon.
The action takes the total number of arrests by Operation Podium to 201 for a range of offences including ticket touting, fraud and theft.
Detective Superintendent Nick Downing, who leads Operation Podium, said his officers are already aware of a number of victims from across the world who have purchased tickets or accommodation from these sites.
Police also reiterated warnings about the following sites:
Cityoflondonlettings.co.uk, a site police believe may be offering accommodation that does not exist and police have requested the site is suspended;
Eurosportstickets.com, a site police believe to be fraudulent and now closed;
Jetsetsport.info, a site that police believe to be fraudulent but is still operating;
Sportticketexchange.com, a site unauthorised to sell or offer for sale Olympic tickets meaning there is no guarantee that tickets will be genuine and police have concerns it could be fraudulent;
2012-londonsummergames.org and www.2012-londonsummergames.com which are both unauthorised to sell Olympic tickets.
Downing appealed for anyone who has not already contacted the team and believes they have purchased tickets or accommodation from these sites to email Podiumenquiries@met.police.uk.
"Today's arrest is linked to fraudulent websites set up to scam the public. This type of crime not only leaves people feeling ripped off and not getting to see the Olympics but it can leave them stranded in London without anywhere to stay," Downing said.
"When booking accommodation for the Games, it is important that you research the company and as far as possible check out whether the accommodation exists. Remember, go to the London 2012 website for all ticket information, that's the only way to guarantee you won't be caught out."
Advice about the safest way to buy tickets and booking accommodation can also be found on the Metropolitan Police website under advice for visitors and communities.
Established in June 2010, Operation Podium is funded through the Home Office Olympics safety and security budget.
The team has looked at previous major events around the world to understand the range of offences criminals may be planning to carry out involving London 2012.
UPDATE: Simon Nicholas Maxwell (date of birth 8 January 1967) of Orchard House, Mountview Road, Walton on Thames has been charged with:
1) Conspiracy to commit fraud in connection to the letting of properties.
2) Conspiracy to commit fraud in connection to the sale of Olympic Tickets
3) Conspiracy to commit offences under s.327 POCA in relation to the proceeds of 1 and 2 above
4) Conspiracy to Illegally sell Olympic Tickets contrary to s.31 London Olympic and Paralympic Act 2006
He will appear in custody Hammersmith Magistrates' Court on 12 July.
Must Read:
London 2012 Olympics: Advice for Victims of Ticket Fraud
London 2012 Tickets: Euroteam in Court and Simon Maxwell Accomplices
London Olympics 2012: Metropolitan Police Warns of Euroteam Web Ticket Scam