Muslim protesters who belong to banned terror group Al-Muhajiroun have been issued with Asbos prohibiting them from a long list of activities, including being in a group where a loudhailer is being used, carrying a crutch or displaying flags more than 2m in size.
Ten protesters, from Luton and London, had the orders issued against them by the Metropolitan Police Service after they were convicted of serious violent and public order offences during protests organised by Al-Muhajiroun including preaching anti-Western and anti-Semitic rhetoric in June 2014.
Some of the members had abused members of the British military during homecoming parades, police said.
During their trial at the Old Bailey, the court heard a protest in May 2013 on Edgware Road, north-west London, included people affiliated to the now proscribed terrorist organisation Al- Muhajiroun.
Asbo conditions apply to:
Kamran Khan, 30, of Wodecroft Road, Luton
Naseer Khan, 32, of Ascot Road, Luton
Qadeer Ahmed, 29, of Highfield Road, Luton
Mohan Uddin, 37, of Trinity Road, Luton.
Moshiur Rahman, 33, of Dane Road, Luton
Jalal Ahmed, 26, of Cavendish Road, Luton
Yousef Bashir, 34, of Dane Road, Luton
Munim Abdul, 33, of Hampton Road, Luton
Mohammed Ishtiaq Alamgir - aka Sayful Islam, 35, of Kenilworth Road, Luton
Jordan Horner, 21, of Radbourne Crescent, London
The group had made their way along Edgware Road and were protesting about the conflict in Syria, while also protesting against Shi'ite Muslims and chanting sectarian slogans and carrying inflammatory banners.
The abuse directed towards the Shi'ite Muslim community culminated in an attack on two members of the public, who were beaten to the floor, punched, kicked and struck with wooden placards.
Eight days later, another protest took place, this time outside the American Embassy in Grosvenor Square, central London. Some of the individuals involved in the demonstration went on to set up a stall in Oxford Street, near a pub where fans who had watched Bradford City v Northampton Town that day at Wembley Stadium had convened.
Fights broke out between the football fans and the people on the stall and fans were seen to be set upon by people from the stall.
One fan received a head injury but did not wish to support a criminal investigation. The incident was captured on CCTV and individuals identified as being involved in the disorder were later arrested and charged with offences relating to that day.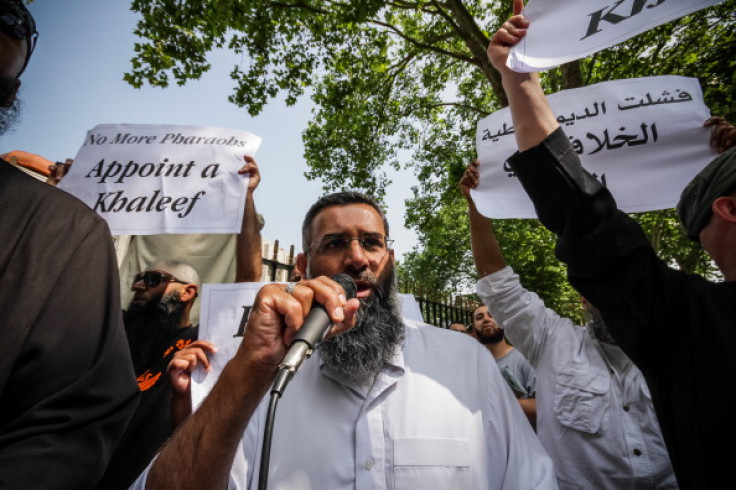 Following the convictions the prosecution made representations to the court and 10 individuals issued the orders on Friday, 23 January, the defendants will now be the subject of Anti Social Behaviour Orders.
Commander Richard Walton of the Met's Counter Terrorism Command (SO15) said: "These men have been convicted of serious violent and public order offences during protests organised by Al Muhajiroun where they espoused anti western and anti Semitic rhetoric.
"Some were previously involved in shouting abuse to members of the British military during home coming parades. We will continue to use all lawful means to tackle those who use threats and violence in this way."
Terms of the Asbos include:
be in a group where a loudhailer is being used
be in a group where any items are being burned
be in a group where a crutch or flag pole is present
set up a stall without first having informed the local authority
be in a group displaying any banner or flag (save for a single notice measuring no more than 1m x 2m containing information as to the identity of the group)