Cafe apologises after branding almond milk smoothie with Nazi swastika
The apology came after two employees allegedly refused to apologise when confronted.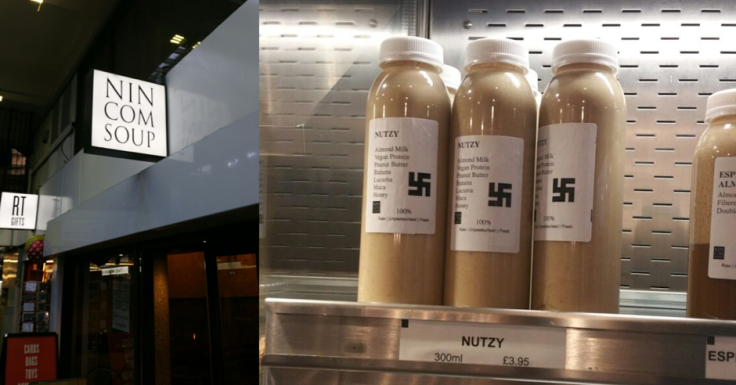 A cafe in London has been forced to apologise for a smoothie baring a swastika on its label after a woman who's family died under the Nazi regime said that it left her "almost in tears and shivering".
The member of the public contacted Campaign Against Antisemitism on 16 November after seeing the smoothie at Nincomsoup, a cafe in London's Old Street Station. The woman said that after seeing the smoothie, she asked to speak to the manager: "He explained that it was an inverted swastika which was a Hindu symbol of health and prosperity, which is indeed right but the swastika was not inverted, and the Hindu sign includes dots within the symbol. When I asked about the name of the drink, he said it was a play on 'having the nuts', meaning 'having the courage' and was a pun as the drink contains nuts."
When she said that it was offensive and that she had lost family during the Nazi regime, she says he replied "London is a free city". The woman said she left the cafe "almost in tears and shivering as it proved to me how much anti-semitism and fascism is still utterly present."
Campaign Against Antisemitism said it sent volunteers the next day but the smoothie was out of stock, it found it in stock again the following Monday but "the swastika had bizarrely been replaced with an image of the Pope waving."
A reporter for The Sun attempted to talk to the manager but instead spoke to the barista who invented the smoothie, John Jordan. Jordan refused to apologise, saying he had "sympathy – but I don't make any apology. It is something that was misunderstood."
The store's founder, Ben Page-Phillips, then put out an apology on their website, blaming a "rogue employee" who had now been dismissed: "This was incomprehensible, extremely insensitive, and upsetting to all of us. We unreservedly apologise."
© Copyright IBTimes 2023. All rights reserved.