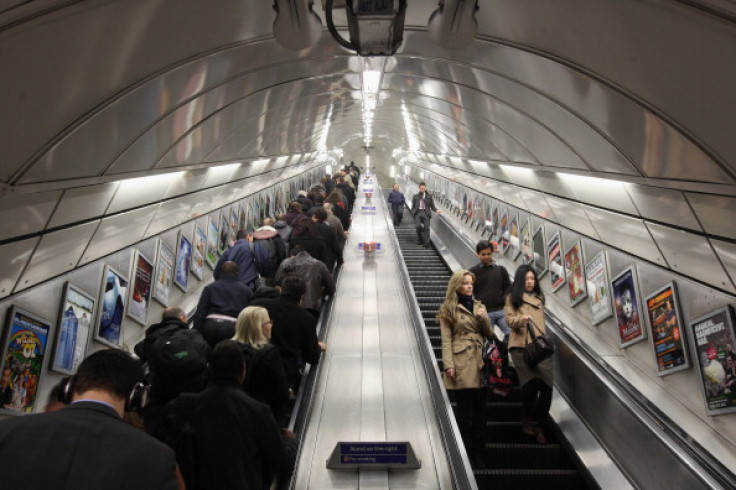 A 30-year-old London man has narrowly escaped injury after trying to slide down the middle barrier between two escalators at the Angel tube station in London - at 60 metres long the longest on the capital's network. The unidentified man was thwarted in his attempt after he fell off after hitting a blue signboard warning passengers to "Stand on the right."
The 30-second stunt was captured on video by the man's acquaintances who then kindly uploaded the accident to the internet. In the video, which has now gone viral on Facebook, the man's friends can be heard laughing in the background as the stuntman takes off on the escalators with a beer in one hand and a wallet in the other. The man, dressed in a pink polo shirt. started his stunt by sitting on the handrail of the escalator. Eventually, however he fell off on one side and suffered some minor bruises and cuts, plus a damaged ego, after being assisted by paramedics.
Transport of London (TfL) has warned passengers against attempting to use the escalator as a slide, which poses risks not only for the stuntman but also nearby commuters. "Safety is our top priority and pranks like this are dangerous for not only those involved but also to other customers," said Mark Evers, Director of Customer Strategy for London Underground, reported in The Evening Standard. "We have frequent PA announcements reminding customers to be careful when using escalators, and we also run safety campaigns throughout the year to encourage customers to take care whilst travelling on our network."
In 2012, a drunk man continued to take the wrong direction of escalators at Tottenham Court Road station despite being told off by nearby commuters. The drunk commuter's journey ended when a person hit the stop button halting the escalators. Around 4,000 injuries are recorded on the underground network every year, most of them involving passengers under the influence of alcohol.