A Turkish restaurant in an outer London suburb has been widely praised for promising a free meal to anyone local who is homeless or elderly this Christmas 2016. Shish Restaurant in Sidcup says no-one should have to eat alone and is offering a three-course meal between 12 and 6pm on Christmas Day.
The meal will include a starter of soup and Cacik (a cucumber and yoghurt dip), a main course of chicken or vegetarian casserole or chicken shish, and a rice pudding dessert. The restaurant said: "No matter what religion, culture or language we speak, we should help people."
Since the restaurant put the posters in its window they have been photographed and shared on social media thousands of times, with around 50 volunteers offering to help out on Christmas Day.
On Facebook, Sally Cudmore wrote: "What lovely people!! Shish restaurant in Sidcup are opening their doors Christmas Day for the elderly and homeless cooking them a Christmas meal free of charge! Please share as this could help somebody who is alone this Christmas :( x great job."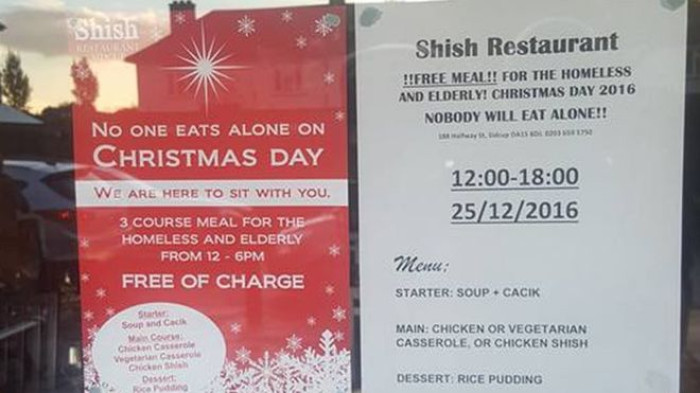 The fact that the restaurant is Muslim-owned appeared to give many cause for optimism, particularly as only this week Louise Casey's report into integration criticised some Muslim communities for not integrating well with the rest of society. Sally Barnes posted: "These are the kind of acts that the Muslims I know carry out with generosity. Someone tell the Daily Mail please!"
The restaurant's kind offer comes as Shelter reports over 250,000 people are homeless in England. Meanwhile the Campaign to End Loneliness charity estimates one in five old people have no-one to turn to when they are feeling down.
The manager of the Shish Restaurant, Irfan Can Genc, said: "Everyone has that little stuff inside in them that brings people together and they just need that spark, and hopefully we've sparked it into a fire."