London Underground commuters are most likely to be racially abused on the Jubilee line than any other on the tube network. There were 183 reported hate crimes on the line in the last two years, five more than the London Overground, which had the second-worst record.
Overall, hate crimes committed on London tube services went up in 2015 to 814, up from 668 the previous year - or an 18% hike, figures obtained in a Freedom of Information request by IBTimes UK revealed. After the Overground, the Central line had the third highest number of hate crimes (169) followed by the Northern and Piccadilly lines (167 each) and District (151).
November 2015 – the month terrorists linking themselves to Islamic State (Isis) killed 130 people in attacks in Paris – saw the highest number of hate crimes on the Underground. There were 118 that month, up almost 150% on the 48 reported the year before.
Islamaphobic incidents more than tripled across the capital in the wake of the Paris terror attacks, with 76 such recorded offences between November 17 and 24 while in the seven days to November 10, three days before the Paris attacks, there were 24.
The line where the least offences happened was, perhaps unsurprisingly, the Waterloo & City line, which runs between Waterloo and Bank stations and saw just one attack. The Metropolitan line recorded the second fewest (65) followed by the Bakerloo line (79). British Transport Police recording methods count the Circle and Hammersmith & City lines as the same one and as a result they saw 120 incidents between them.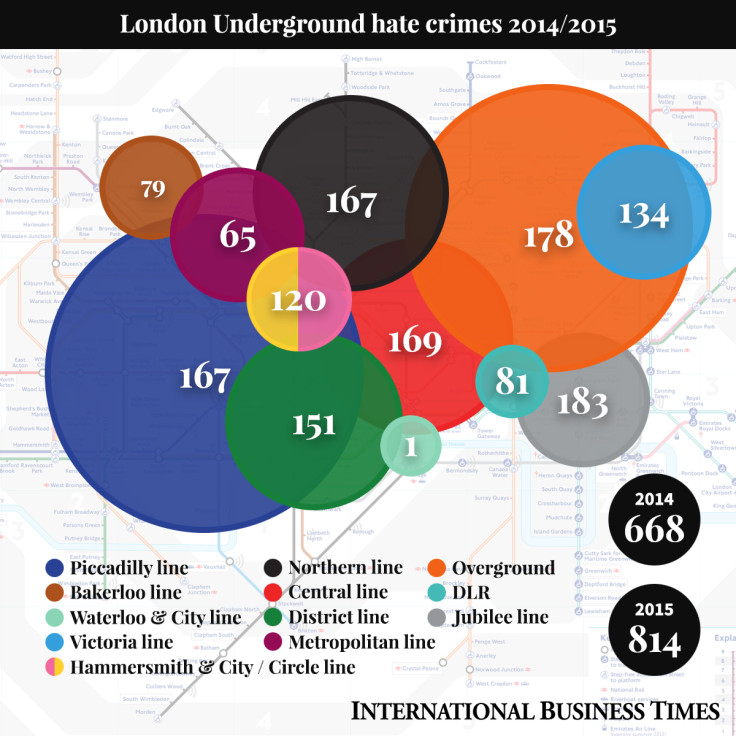 A British Transport Police spokesman said: "Any crime or incident of anti-social behaviour that is motivated by hatred is particularly abhorrent and British Transport Police is working hard to drive such behaviour from the railway.
"Part of this drive is encouraging victims, and those who witness crimes, to report them to police. Only by understanding the true scale and nature of the problem, can we hope to develop lasting solutions that will give all travellers and rail staff an environment as free from hate crime as possible."
Jubilee line facts
The Jublilee line runs for 22.5 miles (36.2 km)
Has 27 stations
It's the only one to connect with all the other Underground Lines
Was named to mark Queen Elizabeth II's Silver Jubilee in 1977 – but the line did not open until 1979
Extended in 1999 to Stratford station in East London
Runs from Stanmore at its western most point to Stratford in the east