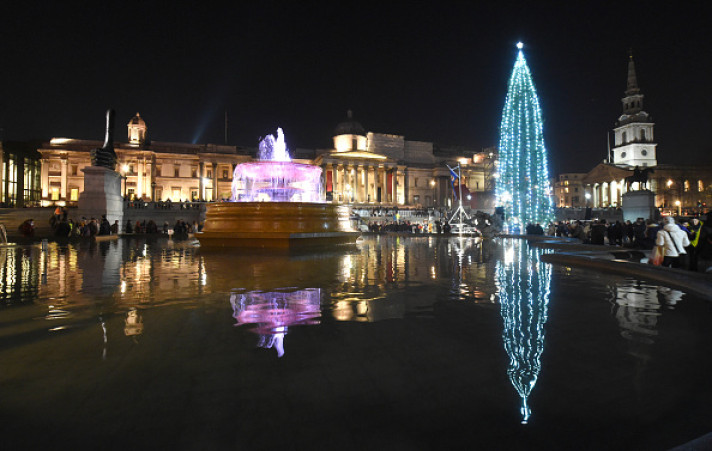 Londoners have slammed the Trafalgar Square Christmas tree, comparing it to a "giant gherkin."
Members of the public braved the cold winter weather to watch the unveiling as the tree was lit up for the first time at 6pm on Thursday (1 December). However, they were left decidedly underwhelmed at the sight.
Many turned to Twitter to comment on the unfortunate arrangement of the lights which some observed left it resembling a vegetable.
"The Trafalgar Square Christmas tree lights make it look like an illuminated cornichon," said one unimpressed commentator.
"Another great choice in #TrafalgarSquare. Looks like it's decorated by same genius behind that absurd finger statue."
"Is the Christmas tree in #TrafalgarSquare meant to look like a giant illuminated cucumber?" asked another.
"Poor tree couldn't they use a plastic one?"

The Norway Spruce has been donated to Britain every year by Oslo since 1947, as an enduring symbol of gratitude for the support Britain gave Norway during the Second World War.

And while it's arrival on British soil, after a 700 mile journey from Norway is usually eagerly anticipated, this year's offering has been dubbed an eyesore and a less than welcome gift.
"If the Christmas tree in Trafalgar Square is anything to go by, Norway clearly hates London," a social media user observed.
More in keeping with the spirit of Christmas, others were rather more gracious in accepting the annual gift, with the unveiling marking the beginning of Yuletide festivities in London.
"What a load of ungrateful sods. It's a generous free gift of friendship and people whinge about it," noted one Twitter user.
The tree, which has its own Twitter handle, will be on display until 8 January 2017.