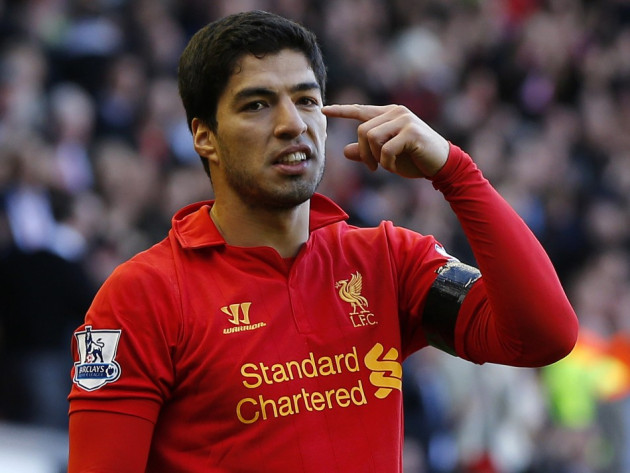 Liverpool have released a statement insisting that they will not be selling Luis Suarez, despite the forward revealing his intention to leave Anfield.
The Uruguayan confirmed in a statement earlier this afternoon that he wishes to leave the club after another controversial campaign in the Premier League which has left the 26-year-old feeling "persecuted" by the British press.
Talk of a £40m move to Real Madrid has been rife in the past two days after Real Madrid president Florentino Perez admitted the club would like to sign the forward. But Liverpool have hit back with a statement of their own dismissing an exit which also refutes Suarez's claim that he has consulted manager Brendan Rodgers about the situation.
"Luis Suarez is not for sale - neither Luis or his representatives have communicated these feelings directly to LFC," the statement read.
"The club remains supportive of Luis and expect him to honour his contract. We will not be making any further comment at this stage."
Liverpool's swift response comes after Suarez vented his discontent towards the manner in which he is perceived in English football on Friday afternoon.
"My reasons for leaving is my family and my image, I don't feel comfortable here anymore," Suarez said.
"It is a difficult moment for me, my coach and my colleagues know that they (the British media) didn't treat me well.
"Firstly, being persecuted by the paparazzi all the time. I couldn't go to my garden or the supermarket. I couldn't do anything.
"I know it is normal to be followed by the press but it was too much. All the silly things they said, all the pictures, all the taunts. That happened every day and nobody [in the press] supported me.
"They talk about me being named the best player in England but I knew that wasn't going to happen because of the way they treated me.
"And the straw that broke the camel's back was my mistake [biting Branislav Ivanovic]. I accept it was my fault, but they went too far."
The 26-year-old has attracted widespread condemnation for large portions of his Liverpool career, initially after being handed an eight game ban for racially abusing Manchester United's Patrice Evra in the 2011/12 season.
Accusations of diving and foul play have further disheartened Suarez during his spell on Merseyside, with the fallout of last season's infamous incident where he bit Chelsea's Ivanovic seemingly too much for the south American to bear.