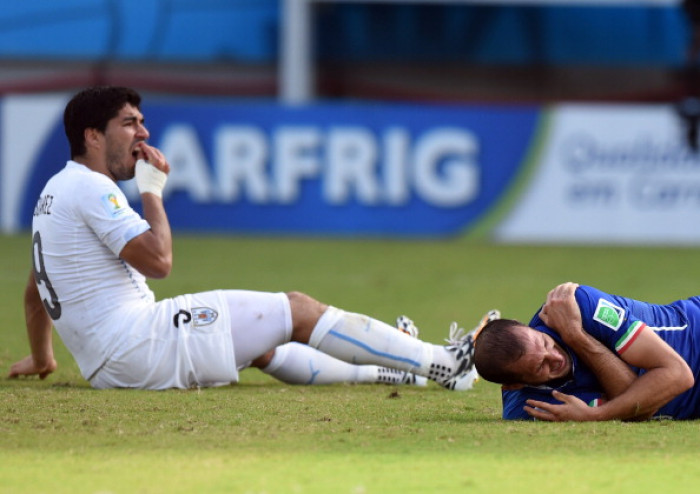 Luis Suarez might be facing a lengthy ban from Fifa but football fans in Norway have already cashed in on tasty profits following the Uruguay striker's latest alleged biting incident.
Norwegian online betting firm Kupong laid on odds of 175/1 in a novelty bet that Suarez would bite an opponent during the World Cup.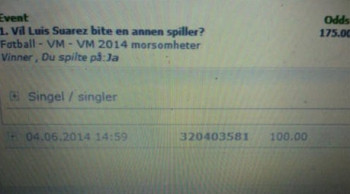 But after 167 punters snapped up the offer, the bookmaker now faces paying out thousands of pounds after video footage appeared to show Suarez chomping into the shoulder of Italian defender Giorgio Chiellini during Tuesday's decisive Group D clash between Uruguay and the Azzurri.
The largest reported winning was 17,500 krone (£1,687), won by Norweigan Richard Helmersen who gambled 100 krone.
The 24-year-old described his reaction to Norweigan broadcaster TV2: "I thought, is he really so stupid that he does it again?
"It was mostly for fun. But I knew that they were playing against Italy and England and [he could soon be] irritable."
Helmersen said he would use his winnings to travel to England in the autumn to watch a football match.
Another Norwegian fan posted his betting slip online showing he had placed 32 krone (£3.10) on the bet, landing himself £540.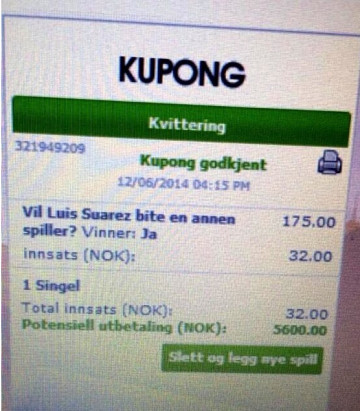 Ban
Fifa confirmed it would be investigating the incident.
"FIFA can confirm that disciplinary proceedings have been opened against the player Luis Suarez of Uruguay," a statement from the football governing body said.
The Uruguay FA and Suarez has until Wednesday (5pm local time – 9pm BST) to present their version and supporting evidence.
After the match Chiellini told Italian television station Rai TV: "It was ridiculous not to send Suarez off. It is clear, clear-cut. Then there was the obvious dive afterwards because he knew very well that he did something that he shouldn't have done."