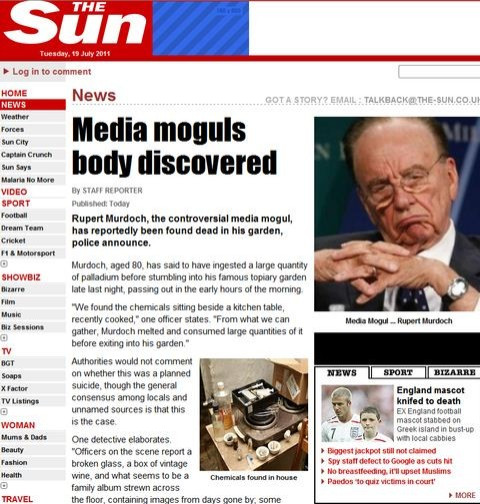 Thousands of emails sent out by News International have warned that the personal data of Sun visitors who entered opinion polls or competitions on the newspaper's website may have been compromised and posted online.
The emails were reportedly sent out late Monday evening and alleged that following the 19 July attack which posted a fake story reporting News International owner Rupert Murdoch's death, a number of Sun website user's personal information may have been taken.
The email listed names, addresses, dates of birth, email addresses, phone numbers and passwords as potentially compromised information.
Since then despite LulzSec's -- the group that took credit for the attack -- promise to only release the data "responsibly" to a select number of media outlets, a number of files have appeared on the Pastebin website claiming to be information taken from the Sun.
Bizarrely, a hacker working under the codename Batteye has taken credit for the posts, claiming that he has no affiliation with either LulzSec or Anonymous.
In a statement subsequently posted by Batteye on Pastebin the hacker cited his motivation claiming "[that] Mankind makes mistakes. Mankind is all the better for them. Mankind learns from them. Some people, however, do not learn. Until these people are pruned by natural selection, incarceration, or otherwise, then mankind will not develop.
"We will remain prey to the 'malicious' type of hacker that steals credit card information, or deletes voicemail messages and pushing the victims family to grieve more for their loved ones.
"This is unacceptable... We will begin today be presenting to you, various files obtained from the Sun, a company within the News Corp group. We will continue, then, by exposing the world for what it is; a less than perfect place where we cannot trust those who we ask to protect our information."
The post refers to the phone hacking scandal currently sweeping the U.K. and U.S.