The first Microsoft-branded Lumia smartphone aims to bring Windows Phone to the masses with the Lumia 535 featuring decent specs but a budget price of under £90.
The Lumia 535 has ditched the Nokia branding of all previous smartphones in the range and features the Microsoft branding above the screen as well as writ large across the centre of the smartphone's rear cover.
Microsoft is clearly positioning this phone as an entry point into its ecosystem, with the budget price aimed at getting lot of people using the Windows Phone platform for the first time, before migrating to the company's more expensive device.
Microsoft is pushing its own OneNote and Skype services through the Windows Phone platform which will help lock users into the Microsoft ecosystem.
Attracting Android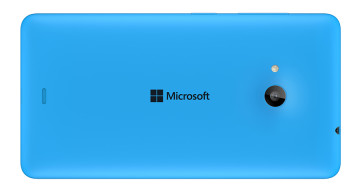 This is a Microsoft phone both inside and out, with the Lumia 535 running the company's own Windows Phone 8.1 software (including the most recent Denim update) and will aim to attract users who normally look to Android smartphones at this price point.
For €110 (£86, $140) users will get a smartphone with a 5in display along with front and rear 5 megapixel cameras, a 1.2GHz processor and 1GB of RAM.
Last year the Lumia 520 was the best-selling device in the range and the Lumia 535 will look to replicate that with improved specs and the latest software - including Cortana - along with the low price point.
While the phone ostensibly sits below the Lumia 630 and Lumia 635 smartphones in the Lumia range, it features a front-facing camera which is lacking in both those devices.
The 1GB of RAM is also more than Nokia/Microsoft has typically included in the lower-end Lumia devices and should help address any performance issues the phones have suffered.
The phone will initially go on sale in China, Hong Kong and Bangladesh this month with "other countries to follow" and will be available in single-SIM and dual-SIM configurations.
As Microsoft's first full foray in the smartphone market, the Lumia 535 clearly indicates that Microsoft is looking to grab a slice of the low-end of the market where competition from dozens of budget Android manufacturers is severe.
However with decent specs, colourful options and improving Windows Phone software, Microsoft is at least offering the customer something different.