Microsoft CEO Satya Nadella Speaks for First Time in UK - And Says Nothing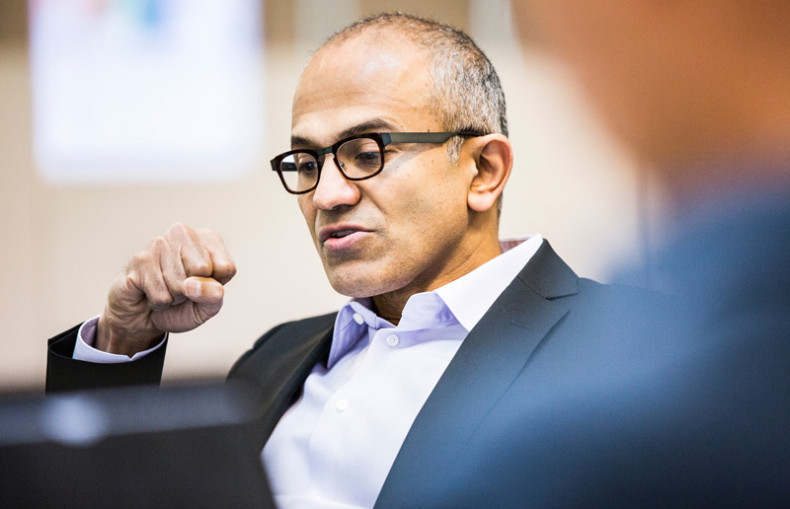 Satya Nadella is the CEO of Microsoft, one of the biggest and most important companies in the world.
With this in mind, you may have expected his first public talk in the UK since becoming the company's third ever CEO to contain at least some interesting information.
But you would have been wrong.
I have just sat through 15 minutes of Nadella "in conversation with" Dave Coplin, the company's chief envisioning officer (I don't know either) at Microsoft's Future Decoded event in London, and aside from being mind-numbingly boring, I am struggling to write anything about what Nadella said.
I didn't expect Microsoft's CEO to announce a ground-breaking product, or to reveal that Steve Ballmer is an alien or that Bill Gates is in fact really miserly - but I did expect something.
The invite to attend the talk played up the fact this was Nadella's first talk in the UK since becoming CEO and his keynote address would outline "how Microsoft is creating the next generation of technology innovation."
Unless that transformation is going to happen by boring people to death, then he failed in his goal spectacularly.
The several thousand in attendance were just looking for something of interest. Anything. Just a glimpse of Nadella's vision for the future of a company which is going through the biggest transformation in its history.
Reinventing productivity
Instead Nadella took the opportunity to talk about "reinventing productivity" which is a phrase I struggle to make sense of.
I understand that Nadella was primarily talking to Microsoft's corporate customers who were attending the event, but even so, I'm sure they would have been more interested in hearing something interesting rather than a verbal press release in the form of a "conversation".
Nadella peppered his talk with words and phrases like "computing fabric", "orchestrate the mobility" "empower", "ubiquity of competing" and many more which have thankfully erased themselves from my memory.
Obviously Nadella is entitled to do as he wishes and talk about what he believes is most important to his customers, but if the number of delegates leaving before the end of the conference's main keynote is anything to go by, I was not the only person who was left scratching my head when Nadella's talk finished.
Wearables, health, office, Dropbox, Ballmer, Gates
Microsoft is a hugely intriguing company. It has got so many fingers in so many technology pies - from gaming and tablets to wearables, software and of course the cloud - that there is no end of interesting things for Nadella to talk about.
Microsoft is reinventing itself as a "mobile first, cloud first" company which sees itself as a devices and services company.
There are dozens of topics Nadella could have focused on at his first public UK address since he took over as Microsoft's third CEO last February, including:
Health - Microsoft's recently launched fitness tracking platform
Band - Microsoft's first wearable device. He wasn't even wearing one on stage.
Office - Microsoft has just announced Office apps for iPhone and Android, which is kind of a big deal.
Dropbox - Microsoft has just announced a partnership with Dropbox for syncing and sharing Office docs, which is - again - kind of a big deal.
He could have talked about taking over from Ballmer; being only the third CEO in the company's history; what he is learning from Bill Gates. Anything.
Instead he spoke about the "rapid adoption of cloud in UK" and how the "only way to orchestrate the mobility is the cloud".
Maybe I was just expecting too much.