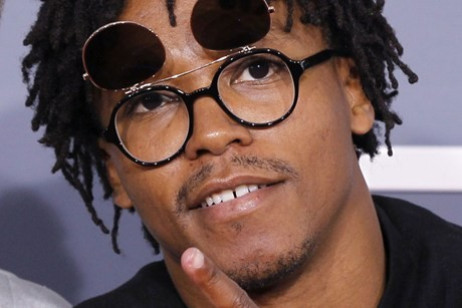 Rapper Lupe Fiasco was reportedly thrown off stage after performing a 30-minute anti-war song which criticised Barack Obama during an inauguration event.
Fiasco's performance at the StartUp RockOn gig at Washington's Hamilton Live venue to celebrate Obama's second term in office was stopped by security after the rapper launched into a 30-minute tirade against the President.
The Grammy award-winning artist also told the crowd he did not vote for Obama during the 2012 US Presidential elections.
The incident was widely discussed on Twitter by those in attendance.
Josh Rogin, journalist for Foreign Policy magazine, wrote: "Lupe Fiasco just got thrown off stage here at the Hamilton Live after he went on an anti-Obama diatribe mid-set.
"So Lupe played one anti-war song for 30 min and said he didn't vote for Obama and eventually was told to move on to the next song.
"Lupe refused to move to the next song so a team of security guards came on stage and told him to go."
Matt Dornic, senior director of public relations for CNN, added: "Things going terribly wrong at @LupeFiasco performance during#SURO. Kicked off stage, bashing obama."
However, the organisers of the event were quick to downplay suggestions Fiasco's show was prematurely ended for political reasons and insisted it was merely for the performance itself.
In a statement, StartUp RockOn said: "Lupe Fiasco performed at this private event, and as you may have read, he left the stage earlier than we had planned. But Lupe Fiasco was not "kicked off stage" for an "anti-Obama rant.
"We are staunch supporters of free speech, and free political speech. This was not about his opinions. Instead, after a bizarrely repetitive, jarring performance that left the crowd vocally dissatisfied, organisers decided to move on to the next act."
This is not the first time Fiasco has expressed his negative opinions on Obama. Speaking in July during an interview for Philadelphia radio station Power99FM, Fiasco was heavily critical of Obama's use of drones. He said: "On one hand, you have someone who is a great speaker, but kills little children - our President.
"I'm talking about ordering a drone attack. Ordering drone attacks that go and kill mothers, innocent bystanders, children. Militants too, but the collateral damage. You're responsible for that, too."
He has also previously referred to Obama as a "terrorist" during an interview with CBS News.
His song Words I Never Said even features the lyrics: "Gaza strip was getting bombed, Obama didn't say s**t. That's why I ain't vote for him, next one either."
A video of the incident at Hamilton Live can be seen below.