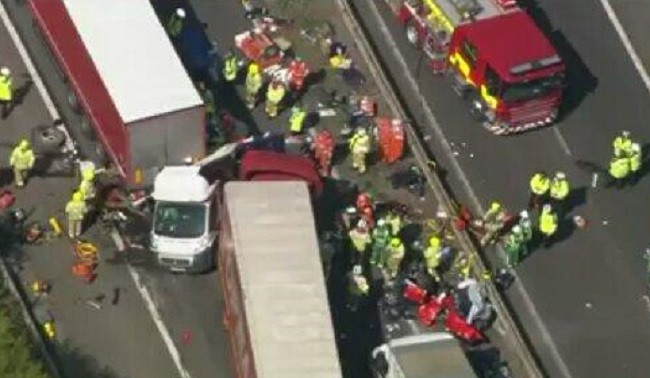 A lorry driver has been arrested over a fatal road crash on the M26 mototway in Kent which left a woman and a child dead.
The 45-year-old man is being questioned by Kent Police over the pile-up in which seven people were also injured.
A 22-year-old woman and 16-year-old girl were killed in the incident on Wednesday (April 17). Both were French citizens.
The collision closed the motorway in both directions for hours while investigators examined the accident scene.
Chief Inspector Matt Kendall said: 'We appreciate that some members of the public were inconvenienced for some time but, in light of the tragic circumstances of the incident, we had a duty to conduct a thorough and detailed investigation at the scene.
"We worked with other emergency services to free traffic from the area and to reopen the road as quickly as possible."
Six injured victims were treated at the Royal London, St George's and King's College hospitals in London. The victim was taken to East Surrey Hospital.