After years a speculation, Madonna has confirmed that she dated rapper Tupac Shakur, two years prior to his death.
The 56-year-old pop star let slip about their long-hidden romance during an interview with Howard Stern on SiriusXM.
Discussing a controversial appearance on the Late Show With David Letterman in 1994, she said: "I was mad at [David Letterman] when I said the F-word a lot," she told Stern. "I was in a weird mood that day. I was dating Tupac Shakur at the time and the thing is, he got me all riled up about life in general."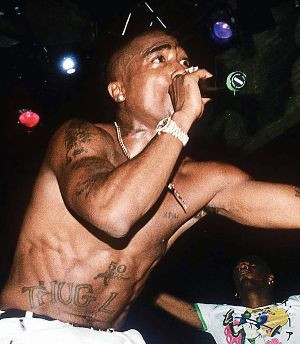 The Material Girl's relationship with Shakur had been subject of rumours over the years, with the View's Rosie Perez even taking credit for getting them together.
Madonna said she was close to the hip hop star with the hip hop star and that he even accompanied her to the Soul Train Awards in 1993. It was at the annual ceremony that Madonna nudged her for an introduction.
"I said she wants to meet you and he goes, 'Hook that up,' Perez recounted during a recent episode of the chat show. "I hooked it up and I was very happy about it."
Madonna: Like An Icon an unauthorised 2007 biography by Lucy O'Brien, claimed that the Like A Prayer singer even wanted to start a family with the rapper.
Shakur was shot and killed in Las Vegas, Nevada Las Vegas on September 7, 1996. He was travelling in a car with Death Row Records founder Suge Knight after attending a Mike Tyson boxing match at the MGM Grand when he was fatally wounded in the drive-by shooting.
Madonna made headlines in February when she fell off the stage at the 2015 Brits after being dragged down by an extravagant cape.