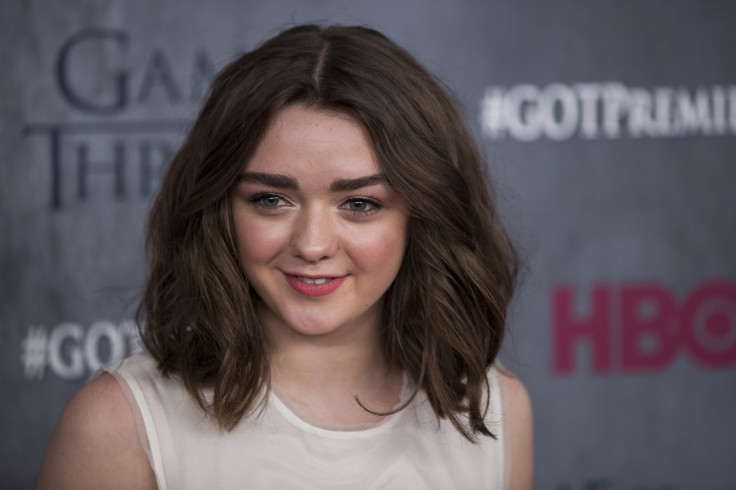 Arya Stark is too busy avenging the deaths of her family members to make room for love, so Game Of Thrones actress Maisie Williams found it elsewhere. The 18-year-old filmed her first on-screen sex scene for a movie and it was an experience she is unlikely to forget.
British drama The Falling sees Williams play troubled schoolgirl Lydia who loses her virginity to a boy named Kenneth, played by Joe Cole. It was the first time the Doctor Who actress had filmed an intimate scene but fortunately, the Peaky Blinders actor made her feel at ease.
Opening up about the scene to Vulture, Williams explained: "It was extremely awkward! But Joe was very sensitive to the fact that I had never done a scene like this before, and it was great to work with someone who was so considerate of that. We went out for a couple of lunches and stuff just to get to know each other, and we had days of rehearsal where we'd get to know our characters and spend a couple of hours with each other. So I knew him quite well, and we got along quite well. It all paid off in the end."
The Falling, which was released in the UK in April 2015, focuses on the aftermath of a tragedy at the strict English girls' school and the sudden fainting epidemic that plagues the students. Thanks to her four years starring in HBO's fantasy series, Williams has plenty of experience of filming tricky scenes under her belt and admits she acted as a mentor to the newer actresses on set of the film.
Watch The Falling trailer:
She told the publication: "For most of the girls, this was their first film – so before we started shooting, I had this big conversation with a lot of them about what it was going to be like on set. I didn't want to boast or anything, but it can be scary if you're not exposed to that. People are talking to you and you have no idea what they're speaking about or what they mean. It was important to make sure they all felt comfortable, so I answered their questions as much as I could."
Williams is currently shooting the upcoming season six of Game Of Thrones with photos emerging of the teen filming on location in Belfast, Northern Ireland. The fantasy show is set to return in spring 2016 while the actress will also appear in two movies, The Devil And The Deep Blue Sea and The Last Of Us.