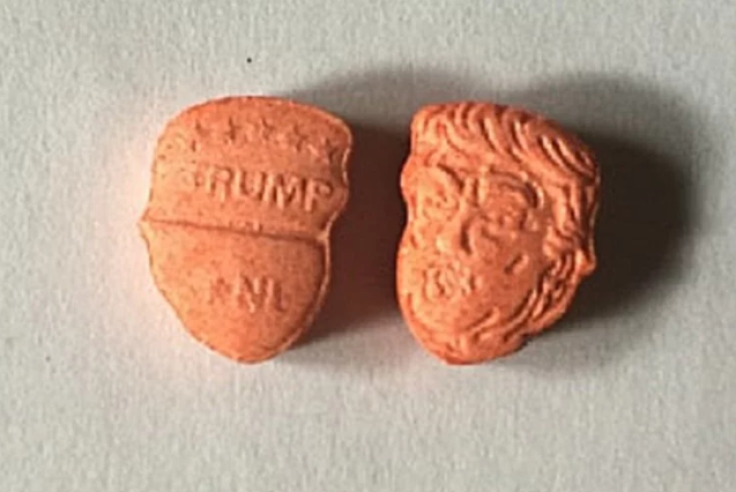 Police in Germany have found thousands of Donald Trump-shaped ecstasy tablets after pulling over a car during a routine traffic stop.
About 5,000 of the small orange tablets – emblazoned with the US President's face and name – were discovered in a Peugeot 307 near the northern town of Osnabruck on Saturday evening (19 August).
Police say the drugs have a street value of around €39,000 (£36,000, $46,000). A large amount of cash was also found in the vehicle.
The two occupants of the car – a 51-year-old man and his 17-year-old son – claimed they had arrived back in Germany after travelling to the Netherlands to buy a vehicle, a deal that had fallen through.
They said they were returning home when they were stopped.
But after officers made the drugs discovery they were arrested and their car confiscated and towed.
It's not the first time Donald Trump-shaped ecstasy tablets have reared their head.
Reports of them being advertised for sale on the dark web emerged last month.
"Trump makes partying great again," claimed one of the seller's pages, where 1,000 of the strong pills could be bought for £1,200 with the promise that "these pills will blow your head off".
"Quality orange Donald Trump tablets," said another seller, adding: "Very nice press, really detailed. Comes in the actual shape of the head of the president of the USA."
Ecstasy manufacturers often brand their potentially deadly products with well-known logos and shapes.
In June, police issued a health warning after a batch of 'Ikea' ecstasy tablets hospitalised dozens of people and was blamed for the death of a teenager.
Last year, two women were hospitalised in Manchester after reportedly consuming pills in the shape of Lego bricks.
Along with Belgium, the Netherlands is one of Europe's largest manufacturing bases for ecstasy tablets and MDMA crystals.