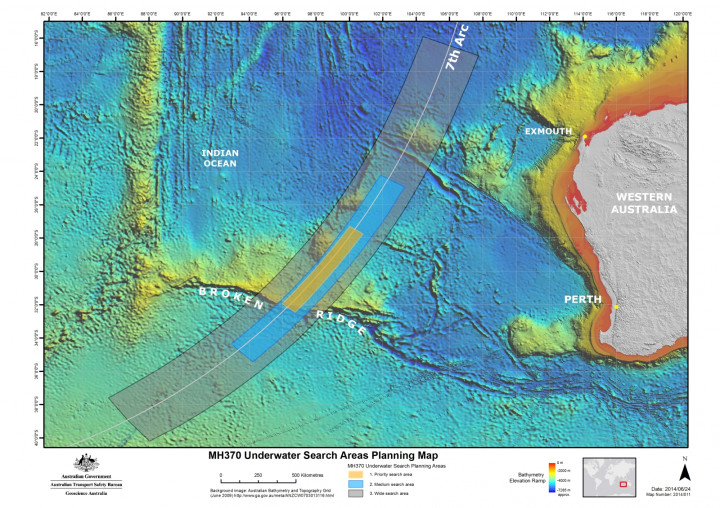 The hunt for missing Malaysia Airlines plane MH370 has hit another set back due to internal disagreements between the five search teams over the location of the plane, it has been claimed.
The teams, made up of Boeing, Inmarsat, France's Thales Group, the United States National Transportation Safety Board (NTSB) and the Australian Defence Science and Technology Organisation, were said to be "divided in their conclusions about where to concentrate the search", the Wall Street Journal reported.
One unnamed sonar expert also expressed his doubts to the WSJ over the likelihood of locating the plane, given the 'dispute-filled' atmosphere among the stakeholders.
But Martin Dolan, the Australian Transport Safety Bureau chief commissioner, was quick to play down any rift.
"There is no disagreement just the deliberate application of differing analysis models," he said.
These models have identified two priority search areas based on two assumptions: first where the plane flew on autopilot until it ran out of fuel and the second the possible flight paths identified by satellite signals from the plane.
Dolan stressed, however, that despite the different methodologies all stakeholders agreed the final resting place of the missing plane was along the so-called 'seventh arc' in southern Indian Ocean, located 100km away from Western Australia.
It comes as the search is set to widen, based on new drift modelling by Australia, which has lead to to predictions the first debris from the plane could come ashore on Indonesia's Western Sumatra after about 123 days.
Peter Foley, search coordinator, said: "We are currently working to see if we can get an updated drift model for a much wider area where there might be possibilities of debris washing ashore."
No trace of the Boeing 777 has been found since the $90m (£57m) search was launched earlier this year. The Beijing-bound flight vanished on 8 March with 239 people on board.