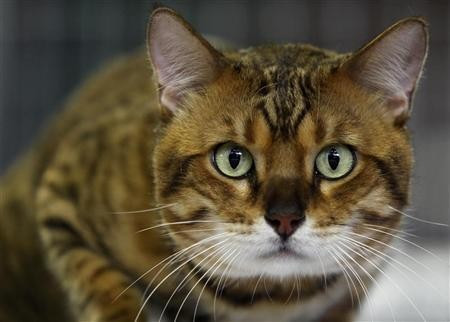 A man has been arrested in connection with a series of sick cat killings in Northampton.
The 31-year-old suspect was investigated after the discovery of five mutilated cats in the Duston and Kingsley Park areas, in August and November last year.
In August, a family found their pet Rusty mutilated and dumped on their doorstep just days after their other cat was deliberately set on fire. The incident occurred only a few days after their other cat was found dead in the Kingsley area after being set on fire.
Five days earlier, on 13 November, another dismembered pet cat was discovered in Duston in Northampton.
Met Police also confirmed a cat was found decapitated in the street on Tivoli Road in Crystal Palace in south-east London. on 28 November.
Police initially thought they had finally found the so-called Croydon cat killer, who has reportedly decapitated up to 400 felines in a disturbing killing spree, apparently with the intention of horrifying the public.
Following the recent spate of attacks on household pets, Northamptonshire Police have been working closely with the Metropolitan force, in a bid to identify the perpetrator.
There were further attacks in south London, north London, Aylesbury and Tunbridge Wells over the festive period. But while the Northampton killings bear similarities with the incidents in London, police are as yet uncertain as to whether they were carried out by the same person.
While the Northampton suspect has been released under investigation, co-founder of the South Norwood Animal Rescue and Liberty (Snarl) Boudicca Rising, who has been assisting police with the investigations, said she does not believe the arrested man is the culprit and fears the Croydon cat killer remains on the loose.
"The killer has not been caught," she said. "What is really clear from the timeline over Christmas is that he was in south London and then started travelling again."
"We have always thought he is a south London resident. He seemed at ease with getting around and the killings seemed more confident."
The culprit has been brutally slaughtering cats and other small animals including rabbits and foxes in the south London area in October 2015.
A £10,000 reward is on offer to anyone with information that could lead to the killer's arrest, Sky News reports.