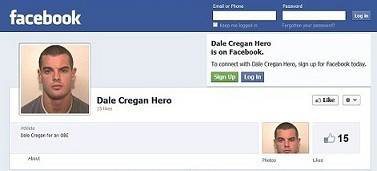 A 22-year-old man from Merseyside has been arrested in connection with a "derogatory and offensive" Facebook page regarding a suspected murderer of two police officers in Greater Manchester.
The page, Dale Cregan Hero, was set up a matter of hours after the 29-year-old handed himself in to police after PC Fiona Bone and PC Nicola Hughes were killed in Tameside.
The page was taken down by Facebook after they said it had violated the companies' statements of rights and responsibilities.
The page described the suspected murderer as a hero and a legend and suggested he should be awarded an OBE.
There was also a number of threatening posts on the page's wall which suggested more police officers should be shot and the suspect "should have blown more of the f*****s up".
A second tribute page was also created entitled Sir Dale Cregan is a Hero, which gained nearly 100 Facebook "likes" before also been taken down.
The pages are similar to one set up for gunman Raoul Moat, who evaded capture for a week in Northumbria in 2010 after shooting his ex-girlfriend and her lover and blinding a police officer before killing himself.
More than 30,000 people joined the group called RIP Raoul Moat.
Assistant Chief Constable Garry Shewan said: "In the 48 hours since the tragic death of our two officers, there has been a huge amount of support from the public through our website and on social media.
"However, there are also a small number of people who have posted malicious and upsetting comments online, causing outrage to many people and prompting them to ask us what we are doing to deal with these people.
"We take reports of this nature seriously as they can have a huge impact on people, demonstrated by the fact that police last night arrested a man in connection with an offensive Facebook page."
Chief Constable Sir Peter Fahy said he had been "overwhelmed" by public support after receiving more than 25,000 messages of condolence on the force's website.
Shortly before the Facebook-related arrest, the Crown Prosecution Service issued a statement which declared it would suggest new social media rules on abuse.
The statement was made after it decided not to press charges against footballer Daniel Thomas, who posted a homophobic tweet about Olympic divers Tom Daley and Peter Waterfield.
Director of Public Prosecutions Keir Starmer declared the message was "not so grossly offensive that criminal charges need to be brought".
Keir said the new guidelines on online abuse would be needed as "the recent increase in the use of social media has been profound".
Starmer added: "The time has come for an informed debate about the boundaries of free speech in an age of social media".
In July, a 17-year-old was arrested but not charged after he was accused of sending death threats and abusing Daley about his dead father via Twitter.