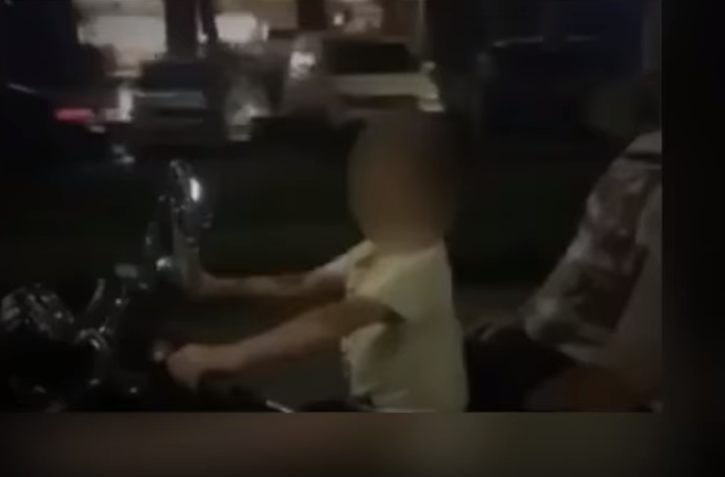 A Chinese man was given a hefty fine for letting his six-year-old son drive a motorcycle on the road in southwestern China.
The boy and his father were both identified by their surname Li. The father was fined 2,000 yuan ($300, £233.99), his licence was revoked, and he was ordered to "educate his child", the state broadcaster CCTV reported on Saturday (19 August).
CCTV reported that the pair were seen speeding across a road in the Nanchuan district of Chongqing late in the evening with the six-year-old in control of the motorcycle.
Police said that the surveillance footage showed the boy steering the motorcycle for the entire two-kilometre distance. His father's hands were not on the handlebars at any point.
Two days after the incident, police identified the pair and detained the elder Li for allowing someone who did not have a licence and was a minor to drive the motorcycle.
The father reportedly told police that he and his son were heading home for the day when the boy had asked him if he could drive the motorcycle. He agreed and the six-year-old, who regularly rides a bicycle, was given controls of the motorcycle by Li, who did not realise it would be illegal or dangerous.
Li, however, mentioned that during the nighttime ride, his foot was on the vehicle's brake as a precaution.
This is not the first case of a minor operating a vehicle in China. In July, a six-year-old was seen driving a car while sitting on his father's lap in the southern city of Qinzhou. The incident sparked a police inquiry.
In another incident, a 12-year-old boy stole a bus and took it for a 10-kilometre drive in Guangzhou in the Guangdong Province.
Earlier, in November 2012, a five-year-old was filmed driving an excavator at a building site in Wuhan in the Hubei Province.