Man kept Polish immigrant in loft and forced him to work 20 hours a day making cards
Edward Zielinski controlled the men through violence, beating them with planks of wood, and taking away their passports.
A man who kept two Polish immigrants locked in his loft paying them in cigarettes and alcohol has been jailed.
Police footage shows the harrowing moment one of the Polish slave workers was rescued by authorities.
Edward Zielinski, of Nottingham, admitted two counts of modern slavery and was sentenced to three years and four months at Nottingham Crown Court.
Judge Gregory Dickinson QC said the 42-year-old treated his victims in a "thoroughly degrading way".
He added: "You made them live in squalor, you took away their income, which would have allowed them to live an independent life. You took away their dignity as human beings."
The offences took place between 31 May 2013 and 1 June 2017.
The court heard how the father-of-two forced the vulnerable men forced to work 20-hours-a-day making greeting cards or other menial work he got for them from employment centres.
Zielinski controlled them through violence, beating them with planks of wood, and took away their passports.
He opened bank accounts for the pair, who prefer to remain anonymous, but only Zielinski had access to the cash. One victim earned around £300 a week, but Zielinski only paid him with cigarettes, alcohol, some clothing and £10 cash.
The men slept on the floor of the loft of his Nottingham family home, and were forced to urinate in plastic bottles at night rather than wake Zielinski and his wife.
The first victim moved from Poland to London in 2008, but got into debt with Zielinski's cousin, owing around £800 for the cost of a new passport and other bills.
Paying off debts
The victim was sent to Nottingham to work for Zielinski to pay off the debt.
He was put to work making greetings cards, working up to 20-hours-a-day from 8am to 4am with only limited breaks, and was beaten if Zielinski didn't think he was working hard enough.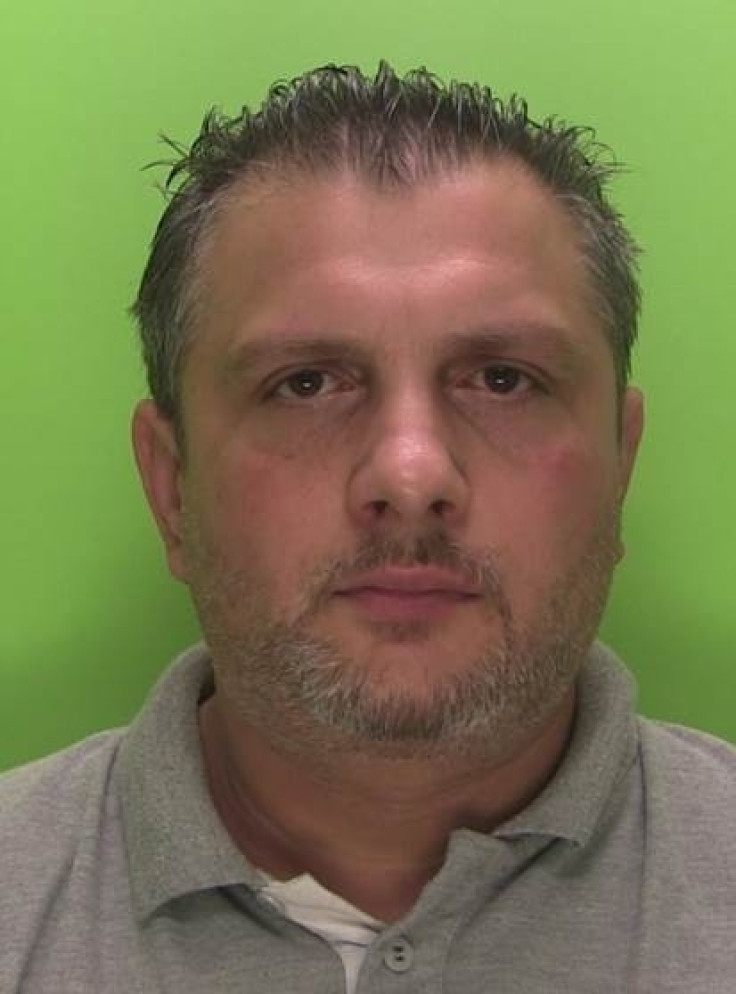 Edward Zielinski admitted two counts of modern slavery and sentenced to three years and four months at Nottingham Crown Court
Nottingham Police
Zielinski found other work for this victim as job agencies, but kept the vast bulk of the cash, and even forced him to steal when agency work was not available.
The first victim twice tried to run away but Zielinski tracked him down through his employers
After being beaten with a plank of wood last January, he finally managed to escape and lived on the streets before ending up in a detention centre in Gatwick.
Nottinghamshire Police's modern slavery team contacted him months later, which led to raid at Zielinski's address.
They found a second man living at the house. This second victim had heard of a spare room at the home in 2015, but Zielinski soon took advantage of him.
Zielinski forced him to work without control of his own finances, and was allowed to live on £70-a-week.
Both victims are now with the Salvation Army charity receiving support.
Detective Sergeant Mike Ebbins, who led the investigation, said: "They were incredibly vulnerable people - unemployed, alcohol dependent, and couldn't speak a word of English - so they were seen as perfect victims.
He added: "In both cases Zielinski exploited them for his own financial interests. He saw an opportunity to make money out of vulnerable Polish men."