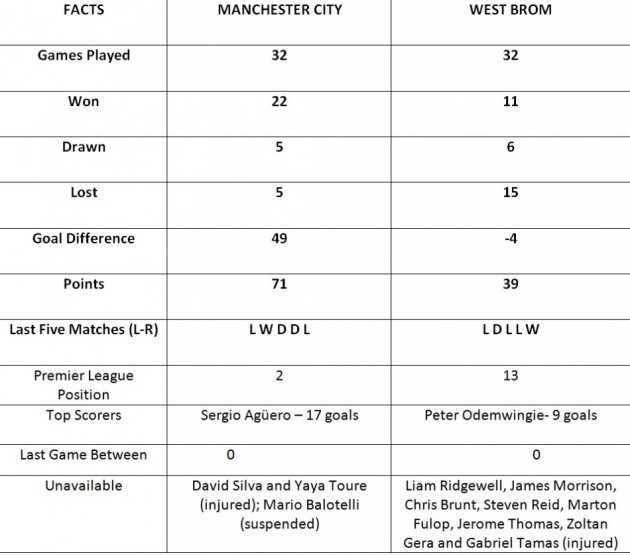 Manchester City will go into Wednesday evening's game against West Brom having all but lost a league title they looked to have wrapped up even as recently as a few weeks ago. However, an absolutely dismal run of form - just one win in their last five games and a total of five points from 15 - not only means that their arch-rivals Manchester United have stolen the title out from right under their noses but also that unless they are careful, City could well lose even second position, to a rampant Arsenal side.
The Gunners put together a stunning performance on 8 April to outclass Roberto Mancini's City in the two teams' last league game, winning 1-0. The talking point, in the aftermath of that game, was the red card to City's controversial Italian striker Mario Balotelli and his horrendous tackle on Arsenal's Alex Song that not only went unpunished on the pitch but is likely to be dismissed by the FA as well. The Italian will, of course not be available for this game, which, in some ways is probably a blessing for Mancini as he looks to not only re-motivate a tired and dejected squad but also re-build his own credibility in front of his players, who have reportedly been angered by his soft stance towards Balotelli.
Although the league title is still, mathematically up for grabs, it must be said that unless there is a massive collapse on the part of Sir Alex Ferguson's men - an unlikely scenario - United will secure their record 20th league crown this year and City will have to pull their socks up for next season.
West Brom, meanwhile, are going through a bit of a mini-crisis themselves; their performances since the surprise 4-0 and 1-0 wins over Sunderland and Chelsea, respectively, in February/March have dipped drastically. In fact, they have fared worse than City, having picked up only four points from the last 15. However, unlike City, the fact they won their last league game 3-0, against relegation threatened Blackburn, will give them a boost. As will the fact that each of their last three wins has come at home (Sunderland, Chelsea and Blackburn).
In terms of team news, aside from Balotelli's absence, Mancini will also be without star Spanish winger David Silva and Ivorian midfield engine Yaya Toure, who went off injured during Arsenal. Silva and Toure are key figures in Mancini's team, with one providing the guile and the other the brawn that saw the Citizens steamroll several teams earlier this season. However, the good news is that he will have a full-strength side otherwise and with the return of Aguero, the City attack certainly has more bite.
West Brom, however, have, an alarmingly long injury list that includes winger Jerome Thomas, midfielders Zoltan Gera and James Morrison and right-back Steven Reid. Unfortunately for the Baggies, the list has now grown to include midfielder Chris Brunt and left-back Liam Ridgwell. Manager Roy Hodgson will also be without defender Gabriel Tamas, who is away on personal leave. However, he will probably be able to call upon striker Marc-Antoine Fortune.
The match will be available live on vslive.tv in the UK and FOXSoccer.tv in the US.
Prediction:
Their poor recent form aside, Manchester City have been in tremendous form at home. They are unbeaten in 16 in the league this season and have scored 47 goals, conceding only 10, in the process. West Brom, meanwhile, have had mixed success on the road. They've won six of 16 away games this season, struggling to score in the process. The last time they won on the road was when they stuffed Wolves 5-1 but it is highly unlikely, indeed impossible, we will see a repeat of that score.
Expect City to be fired up for this one, if only to prove to their fans they still know how to score goals... after the debacle against Arsenal and to prove to Mancini they do not need Balotelli in their ranks to win games.
Final Score:
Manchester City 3 - West Brom 0