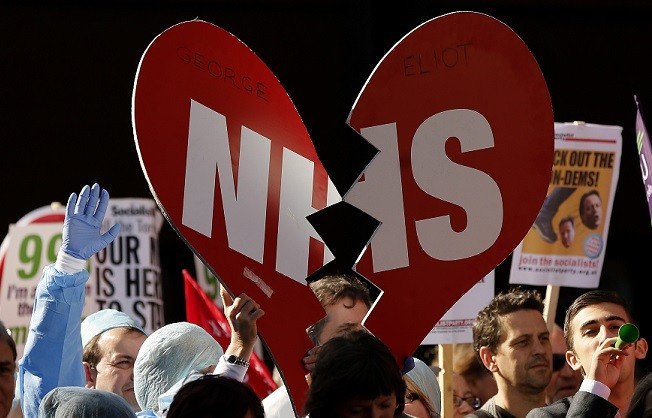 Police have praised the thousands of protesters who took part in the union protests against austerity cuts and NHS changes in Manchester on the opening day of the Conservative party conference.
Around 50,000 marched through the streets of Manchester in protests organised by the Trades Union Congress (TUC), including Unison and Unite.
Greater Manchester Police said it was the largest demonstration they have ever had to deal with. Despite the huge number of people taking part in the demonstration against NHS privatisation and government cuts, there were only two arrests for minor offences.
One man, 19 was arrested for breach of the peace, and another man, aged 36 was arrested for a public order offence.
Chief supt John O'Hare said: "This was the largest protest Greater Manchester Police have had to manage and I would like to thank those who attended for behaving in a peaceful and lawful manner.
"It was clear the intentions of the organisers and those who were involved in the march wanted to protest peacefully as is their democratic right to do so.
"It is pleasing that with a crowd of 50,000 there were only two arrests for low level offences."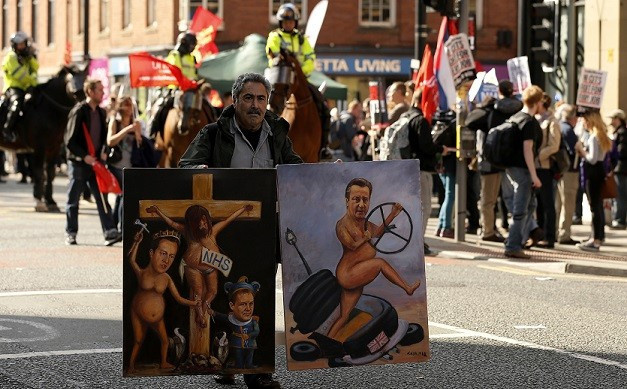 The amount of protesters attending the march outnumbered the number of Tory guests at the conference by three to one, as 10,000 more people turned up at the rally than expected.
Many held up placards and banners reading "Save our NHS" and "No to Austerity".
Speaking as the Tory conference began, TUC general secretary Frances O'Grady told marchers: "The NHS faces the gravest crisis in its history.
"We are seeing privatisation on an unthinkable scale as core services are hived off to the lowest bidder, budgets are flat-lining, and huge efficiency savings are being demanded by ministers - all at a time of record patient demand.
"After promising there would be no top-down re-organisation, the government is wasting billions implementing reforms nobody wants and nobody voted for."
The TUC's north-west regional secretary, Lynn Collins, added: "Our NHS is under attack and we want to send the strongest message to the Conservatives that we will not stand by and let them sell off our national treasure."
However a Department of Health spokeswoman said there was "absolutely no government policy to privatise NHS services".
She added: "The NHS will stay free for everyone, but it's right that patients should get the best service - regardless of who provides it.
"Charities, social enterprises and independent providers play an important part in providing NHS care - and have done for many years - helping give patients more choice of where and how they are treated."
READ MORE Analysis: Tories Spooked as David Cameron Prepares for Conference