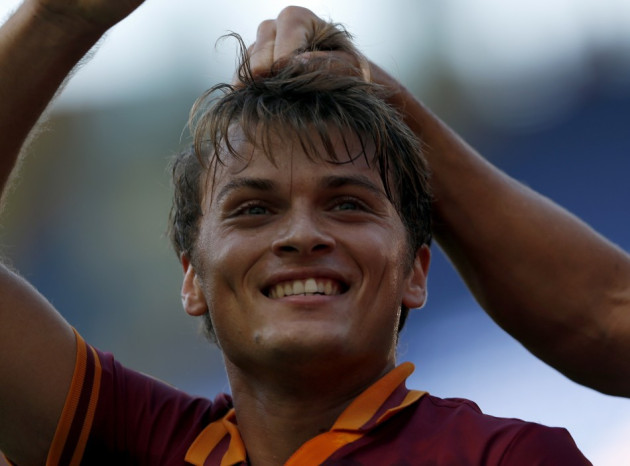 During the autopsy of Manchester United's harrowing 4-1 defeat to Manchester City, exasperated fans were left trying to come up with answers as to why their side looked so devoid of fight and inspiration at the Etihad Stadium.
While the jury is still out on the reasons behind the former, the sight of Luis Nani and Shinji Kagawa once again confined to bench roles will have not helped remedy frustrations as United's attempts to fashion a moment of brilliance were swiftly thwarted.
Meanwhile in Serie A, a talent with similar responsibilities continues to excel; one who the Premier League champions decided to cancel a move for despite warnings from his club they would regret such a decision.
While the trajectories both United and Adem Ljajic have taken since that transfer was called off in December 2009 have seen both the club and player yield their own separate successes, the nature of United's decision to pull the plug on the deal leads some to understandably wonder what may have been.
While the Serbian's club at the time in Partizan Belgrade claimed financial issues was the reason behind United's decision to cancel the £10m move, former United assistant Mike Phelan would admit complications over a work permit were the cause.
Four years later after one of Italy's most drawn out transfer sagas of the summer, 21-year-old Ljajic left Fiorentina, the club that afforded him his first opportunity in a major European division. After refusing to sign a new contract with the Viola, Ljajic actively sought a move to AC Milan before a move to Roma eventually transpired, joining the club for €11m.
Manager Rudi Garcia, appointed at the beginning of the summer, would be given the task of replacing last season's two top scorers in Pablo Osvaldo and Erik Lamela, now carrying the tags of the record signings of Southampton and Tottenham respectively.
Little over a month into his Roma career and Ljajic has already begun to prove he is capable of supplementing the loss of Lamela. Similarly to the role the Argentine adopted at the Stadio Olimpico, the Serbian can operate just as effectively as an attacking midfielder, a withdrawn forward or as a winger, perfect foil for the club's interchangeable forward options of Francesco Totti, Gervinho, Marco Borriello and Mattia Destro.
His move to the Italian capital has already yielded two goals in his first three Serie A appearances for the Giallorossi, including one in the weekend's victory over bitter rivals Lazio in the Rome derby.
The goal coupled with an inspired performance from Ljajic earned him the adulation of fans who have been delighted with their club's emphatic start to the season which sees them sat at the top of the league with a perfect return of four wins from four games.
Ljajic's irresistible start to life at Roma marks another turning point in his short career. Just last May the midfielder was attacked by his former coach Delio Rossi as the manager aimed a punch at the midfielder after substituting him.
The manager claimed his assault was apparently prompted by the Serb insulting his family. But after teammates who saw the stunning attack on the subs bench during that match against Novara insisted they had not heard any such insults, Rossi was given his marching orders.
The hot headed Rossi was replaced by Vincenzo Montella and Ljajic's rapid rise recommenced. He now appears primed to have a key role in Roma's attempts to thrust themselves back into title contention after last season's disappointment that saw them finish four points outside of European qualification.
Two Premier League title successes suggests United have not harboured too much regret over the decision to call off their move for Ljajic's five years ago.
Indeed, if Sunday's derby loss showed anything in the way of perturbing issues in David Moyes' squad, they came down to options that were overlooked on the day rather than a worrying dearth of talent, in addition to a string of defensive misdemeanours that marred his side's performance.
While Ashley Young and Antonio Valencia endured rotten afternoons against Manuel Pellegrini's powerful side, the options of Nani, Kagawa and even youngsters Adnan Januzaj and Wilfried Zaha suggest there is more to work with in advanced positions than Sunday's showings indicated.
But while perhaps Serbia's brightest young talents continues his exhilarating growth as a footballer, some United fans may wonder what may have happened had Ljajic's development resided at Old Trafford.