James Milner has hit back at Manchester United's claims that City lack team spirit, with the midfielder claiming that the side have only survived their difficult periods this season because they have put each other ahead of themselves.
City were favourites to win the title for the majority of the season, but after faltering against the likes of Swansea and Arsenal, the side are now five points behind their cross town rivals in the table.
And after United coach Rene Meulensteen said that the reason they fell behind was their lack of team spirit, Milner has come out to defend the big spenders, insisting they know that it's City that comes first no matter what.
"Look at the season we have had and winning the FA Cup last year," he told Sky Sports.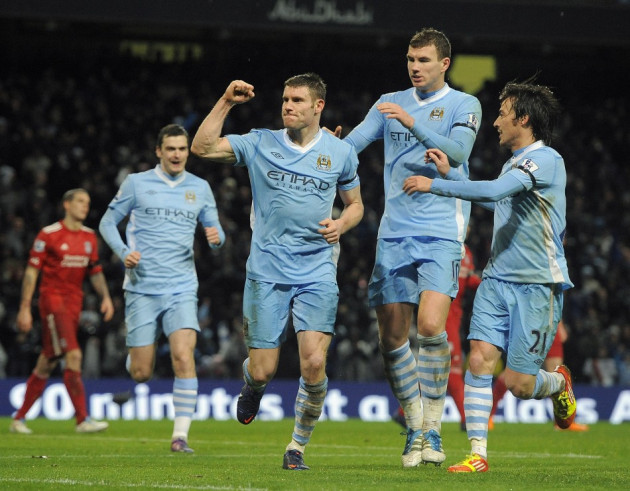 "That first trophy as a group was great and you can look at games this year when we have been losing and shown character and fight.
"Even in the FA Cup game against United we were a man down and losing heavily at half-time. But we came back and could easily have got a draw out of the game.
"I cannot see a team of individuals doing that. You need that spirit, determination and togetherness to get through the low points of the season and we have done that.
"We are playing good football, had a great performance at the weekend and all season we have fought in all competitions and will do that until the end."
Since City lost to Arsenal, the side have come back to score 10 goals in two games, conceding only one.
And though they are still behind United, with four games to play in the season, including against one another in a derby on April 30, the side are still well and truly in contention to steal their first title since 1968.
Milner also addressed talk that players in the dressing room at Etihad Stadium were unhappy with receiving limited game time, explaining: "It's frustrating at times because you want to play every game and it's not going to happen. But that's your will to win and your drive as a footballer.
"But it's about the team, not the individuals. It's about City winning trophies and the rest doesn't matter.
"You want to play with, and against, the best and become the best player you can be. Playing with the kind of players we have here will improve you.
"You need competition for places and I knew it would be difficult to play every single game.
"But you have to back your own ability to be a big figure in the dressing room, improve as a player and contribute as much as you can to the success of the team."