Manchester United legend Alex Stepney has argued that David de Gea has what it takes to be the club's number one keeper this season, with the youngster currently competing with Anders Lindegaard for the position.
De Gea made the move to the Red Devils in the 2011 summer, with big shoes to fill as Edwin van der Sar announced his retirement.
United struggled at times last season with De Gea in front of goal, and blunders over the Christmas and New Years' period cost them dearly as they lost to Blackburn and Newcastle.
He became more consistent towards the end of the season, but Lindegaard has mounted a serious challenge for a starting place in the United squad, though Stepney thinks it will be the Spaniard who Sir Alex Ferguson places his long term trust in.
"Unless David makes a huge mistake like he did against Fulham, I think he will keep his place and be the permanent keeper in the Premier League for United," Stepney told M.E.N. Sport. "That's the way it looks like it is panning out. The manager has said he's a shot-stopper and a line keeper and that seems to be accepted now.
"Sir Alex did say he was going to continue rotating the two of them but made the point if one did demand he was chosen regularly by his performances, then so be it. David could be close to that now.
"Anders Lindegaard is still going to need his matches because you cannot afford to let one of them become rusty but it does seem in the Premier League that De Gea has won the battle.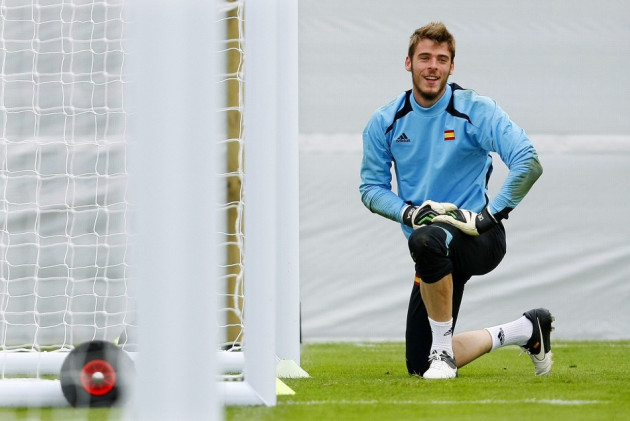 "A keeper has to be in charge of that area and dominate it with a safe pair of hands. That's how Peter Schmeichel and Edwin van der Sar did it.
"As long as your team mates know what you are going to do and you are consistent about it that is a good understanding to have."
Stepney, who was part of the United team that became the first English club to win the European Cup in 1968, said that while the club are conceding too much, that isn't because of De Gea.
He added: "United are obviously still conceding too many goals but I don't think that is down to De Gea or any lack of understanding now. I don't think you could blame him, for instance, for the two goals at Aston Villa."
So far this season, in the league United have conceded 16 times in 11 matches played. Their play has been curious because more often than not they've had to come from behind to win, but they still sit at the top of the table.