Fulham forward Dimitar Berbatov has spoken for the first time about the frustration he felt in his final 18 months at Manchester United.
The 31-year-old left United on the final day of the transfer window in a £4million deal after finding himself well down the pecking order at Old Trafford.
Sir Alex Ferguson made it clear to the striker that he did not have a future at the club, despite finishing the 2010/11 season as the joint top scorer in the Premier League.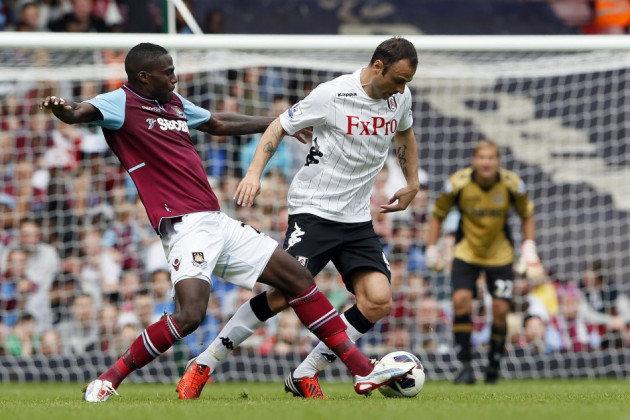 However, having lost his place in the starting line-up for the Champions League final against Barcelona in the same season, Berbatov was forced to spend much of last season sitting on the bench.
Having finally left the club, the Bulgarian has decided to finally speak out about the situation at Manchester United which saw him go from first team regular to fifth choice striker.
"I don't think I deserved such treatment at United -- not playing (regularly) in the last year." Berbatov told the Daily Telegraph.
"I went more than 10, probably 15, times to ask the coach if they need me, and every time I was told that I'm an important player and should not leave, but then again I was not in the team.
"Maybe I should've gone when he (Ferguson) left me out of the squad for the Champions League final.
"I know he's the boss, but he has lost, to some extent, my respect because of the way he treated me.
"I'll have no problems playing against United as this already happened in my career, but there's no point to look back again.
"I said goodbye to the people who deserve it, but I couldn't say goodbye to Ferguson."
Berbatov had cost United £30.75million when he moved from White hart Lane, but this season was deemed surplus to requirements after the summer addition of Robin van Persie.
Ferguson admitted that he wanted United to employ a faster counter-attacking style which did not suit the game of Berbatov. Something that striker admits he reluctantly understands.
"He (Ferguson) tried to explain to me that the team will be using a more direct style, with more speed. But I've never been among the fastest players, I like to hold the ball, this is my style," added Berbatov.
"I found it hard to accept his decision, but I still have my dignity. I scored many goals, I won the league two times, and I was the league top scorer, so it's not bad."