If ever you wanted an example of how wonderfully temporary football can be, then this weekend's FA Cup fourth round would do nicely.
Manchester United went from Premier League laughing stocks having failed to dispatch League Two side Cambridge United on Friday night to favourites to lift the trophy in a little over 24 hours. As lacklusture as United had been at the Abbey Stadium, even they must have been buoyed to see Bradford City and Middlesbrough remove two giants from the draw for the fifth round on Saturday, with Manchester City and Chelsea falling by the wayside.
The path to Wembley certainly looks less perilous with the league's top two out of the equation, and with it comes an opportunity for Louis van Gaal to earn his new club some silverware in his maiden campaign.
Should United negotiate the replay against Cambridge at Old Trafford a week on Wednesday, of course, and given their current form, that isn't a foregone conclusion. The expectation is that Van Gaal's side will be ruthless and prove the disparity in their league positions, but the fact remains that they have now struggled to varying degrees against all three lower-league sides they have faced in cup competitions this season.
A third round victory against League One Yeovil required a moment of magic from Ander Herrera deep into the second half before some sense of control was evident, and the less said about September's harrowing defeat in Milton Keynes, the better. Friday night's game merely continued that trend; Cambridge were organised, allowed little and maintained their shape excellently. They rarely troubled David de Gea, true, but the team made up of footballing talent from across the globe that cost £180m to assemble rarely troubled them, either.
Van Gaal's assertion that 'everything was against' United hardly helped matters, and came across as a pointless attempt to shift the blame away from his club. Referee Chris Foy rarely got in their way, and blaming the conditions or state of the pitch seems trite considering the sheer quality of the side that the Dutchman picked. In truth, they looked uncomfortable from the off, like a ragtag collection of men playing together for the first time.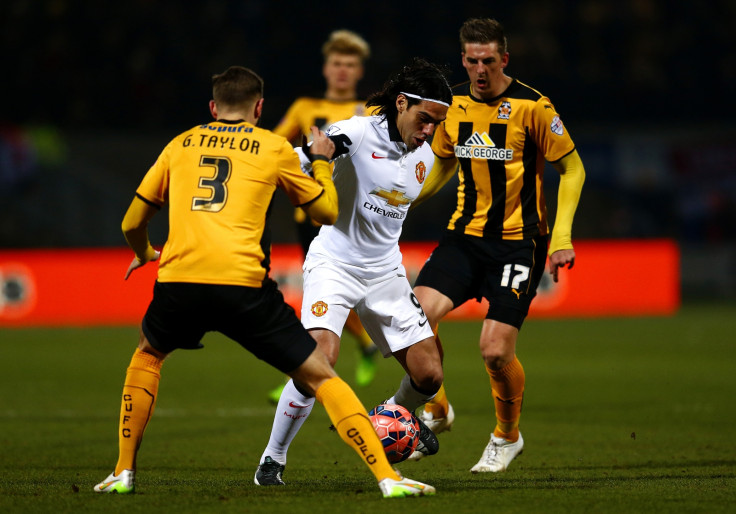 Even when they began to dominate possession in the second half, it felt like they were offering a pale imitation of the strength United would have shown previously in such situations. Positives were few and far between until Saturday's action had wound down, and if Van Gaal takes anything from this unprecedented weekend, it's that his side have to take advantage of Chelsea and City's misfortune.
It would be entirely unfair to suggest that the former Bayern boss's job is coming under threat given United's current form (or lack thereof), but the absence of quality in his side's football of late, coupled with soundbites as unfounded as the one above, won't exactly raise his stock at Old Trafford. The dissenters aren't legion at this point, but there is growing discontent within the club's fanbase, and their grievances aren't unfounded.
The gripes range from a run of puzzling substitutions to frequently excluding the likes of Herrera from the starting XI for no discernible reason, and the increasingly worrying sight of United not having a coherent or effective plan when they step onto a football pitch. These aren't the mindless complaints of a spoilt few fans, they are legitimate questions that Van Gaal is creating with some of his decisions. At present, the mood around United fans could best be described as perplexed; certainly not baying for blood, but there are few answers out there as to why the club are labouring as they currently are.
That's part of the reason why FA Cup glory this season would be so welcome. The lack of European football this season has placed a greater emphasis on both cup competitions, and after the aforementioned League Cup exit and their absence from the Premier League title race, a trip to Wembley and a chance to win a trophy that the club hasn't lifted in eleven years is a golden opportunity to make something of this season.
Huge incentive for United
The absence of the league's top three from the fifth round draw is a massive incentive to succeed in a competition that United have to approach with the greatest of respect; after last season, and the stutterings of this term, this is Van Gaal's chance to mark his debut year at Old Trafford with distinction. For a club that prides itself on its success, it's an opportunity that is far too good to pass up.
There will be no excuses when the replay rolls around; United have to be better, more fluent, more creative and far more dominant than they were on Friday night, as Cambridge have proven that they can make themselves difficult to perforate. Should United progress, as the overwhelming majority will expect them to, there's no guarantee that they will make the next round any easier, even without Southampton, City and Chelsea present.
But the FA Cup now represents United's only realistic opportunity to win a trophy this season, and thanks to some high-profile exits, the club's chances of success have suddenly vastly improved. Time will tell if they're able to take advantage of this good fortune, but one thing's for sure: Van Gaal will need to draw far more out of his players than he is currently getting for United to get anywhere near their first showpiece final in four years.
The article was provided by Red Mancunian, one of the most popular Manchester United fan accounts in the world. You can follow them on Twitter here or go to www.redmancunian.com.