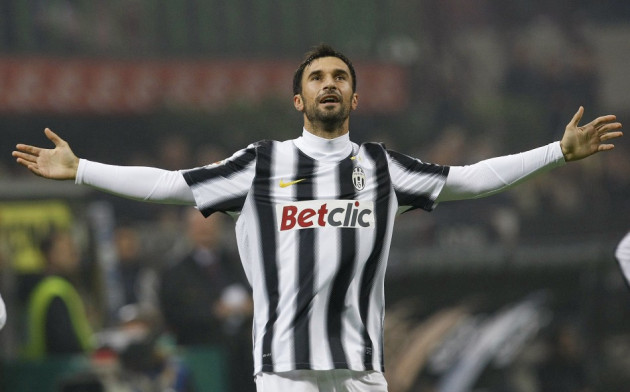 Manchester United have been alerted to the availability of Mirko Vucinic after the Juventus striker outlined his desire to play in the Premier League.
Vucinic was heavily linked with a move to England during the summer before he eventually moved from Roma to Juventus.
However, the Montenegro forward has admitted he would relish the chance to play in the Premier League, should the reported interest come to fruition.
"That would be a great destination and, according to my agent, there are several options to consider," he is quoted on talkSPORT.
Nevertheless, Sir Alex Ferguson's transfer record in the last three seasons suggests that a move for the 28-year-old Vucinic is unlikely. Last year, Ferguson acknowledged that the club were no longer prepared to splash out on big name players, citing a player's potential and future re-sale value as the most important aspects of the club's policy.
"Occasionally we do go into the transfer market for mature players," Ferguson said in April 2010. "[Dimitar] Berbatov was 27 when he came to us but you have to ask yourself if when a 27-year-old fulfils his contract for five years he will have little resale value."
The answer appears to be a resounding no. Berbatov, last season's joint golden boot winner, has made only a handful of appearances for United this season and recent reports suggest the Bulgarian will be moved on when his contract expires in the summer.
Galatasary are the latest club to be linked with Berbatov after the Turkish club's president, Unal Aysal, confirmed the striker was one of a number of players they are looking at.
"We're not just looking at Berbatov: we're interested in a number of players," Unal told Hurriyet. "Yes, we're thinking of forwards, but now is far too early.
"We can only get in contact and decide at the end of December, when the time comes. We have four or five players in mind."
Meanwhile, United look to have missed out on Marek Hamsik after the Napoli midfielder edged closer to signing a new deal with the Serie A side.
Hamsik was strongly linked with a move to Old Trafford over the summer but Napoli president Aurelio De Laurentiis moved to quash recent speculation by revealing the 24-year-old was close to inking a fresh contract at the club.
"It is safe now. I secured it last year and now we must follow the same line because he deserves it," De Laurentiis was quoted on talkSPORT. "Selling does not enter my mind."