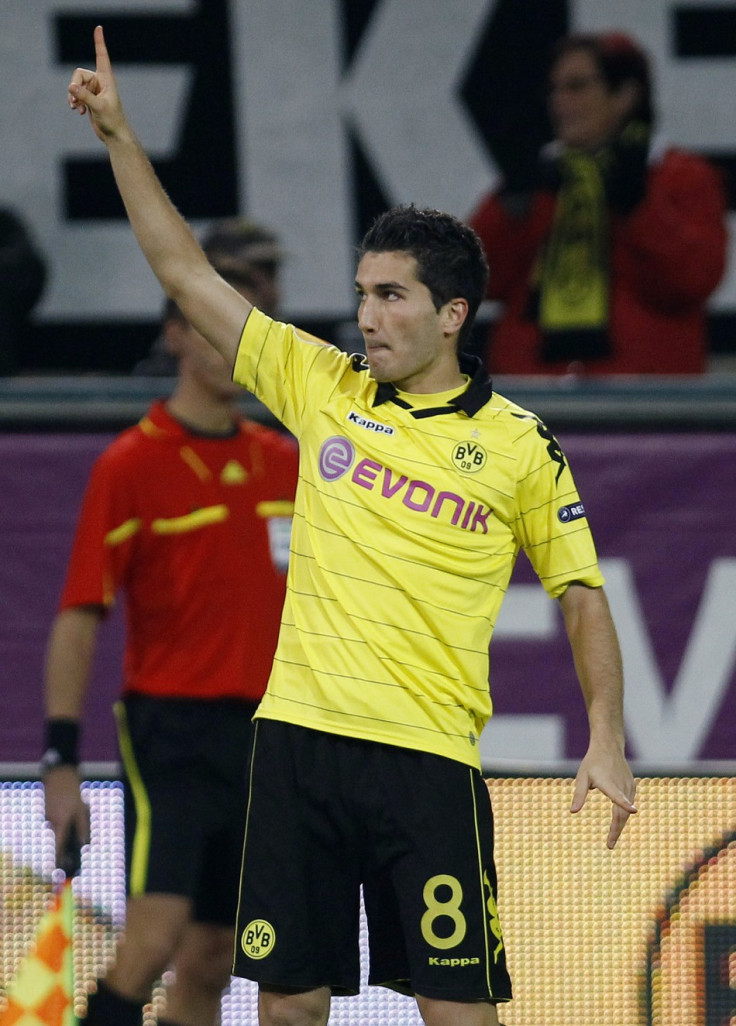 Sir Alex Ferguson has reportedly decided to look for alternatives to Sao Paulo midfielder Lucas Moura, in case a deal for the 19 year old youngster fails to materialise.
A report by Goal.com suggests the Manchester United manager may have settled on Real Madrid's Turkish international Nuri Sahin, as a cheaper and certainly more viable alternative. The report adds that a deal could be concluded for £20m.
Sahin joined the Spanish champions last summer, after moving from Bundesliga winners Borussia Dortmund for an unspecified fee. The 22-year-old central midfielder signed a six-year contract with Jose Mourinho's side and his signing was seen as one of the final pieces of the first team jigsaw.
Unfortunately for both club and player, Sahin arrived at the club with a long-term injury and the excellent form of midfielders Xabi Alonso and Sami Khedira meant he saw very little first team action last season.
However, his ability to control and dictate play from the centre of the pitch has never really been in question, so much so that Mourinho is reportedly keen to retain his services as Madrid look to defend last season's league triumph and engineer an assault on their tenth Champions League crown.
The player himself has repeatedly declared his commitment to staying at the Santiago Bernabeu.
"It is one of the best clubs in the world, and for this reason I do not see why I should go. I have no intention of leaving," Sahin was quoted as saying earlier in the summer, when there was speculation Madrid could offer him in a player/cash deal for Spurs' Luka Modric.
Nevertheless, there are two factors that could persuade Sahin to change his mind. The first is the probable arrival of Modric at Madrid, and the second the presence of former Dortmund team mate Shinji Kagawa at Old Trafford.
Real Madrid's midfield is already a crowded one... Manchester United's is not. The math is really very simple. Mourinho rarely changes a winning combination and the understanding developed between Alonso and Khedira last season means Sahin may have very little first team action at the Bernabeu, again. In addition, a certain Brazilian midfielder - Kaka - is still very much an option, should he remain, as it seems likely, at the Spanish capital for another season. Finally, Madrid youth product Esteban Granero is also in the ranks and the club's rejection of a bid for the 25-year-old, reportedly from an English club, indicates he could play a role in Mourinho's plans next season.
There is also Lassana Diarra to consider, although the Frenchman was as sparingly used as Sahin last season and has been linked with Spartak Moscow. Should push come to shove, Diarra's versatility (he can play at right back as well as midfield) could give him the edge in the battle to remain at Madrid.
All this means that should Modric arrive, Sahin will get pushed further down the pecking order and a move away will look increasingly attractive, particularly since the midfielder will have to consider his place in the national team as well.
The second factor that could convince Sahin of a move to Old Trafford is that Japanese international Kagawa has signed on for Ferguson's side. The new signing has often spoken of his liking for the Turkey man and the fact that United have ample place in their midfield for the Turkey man will be an important consideration. Indeed, Ferguson needs experienced reinforcements in that area.
Finally, United are not, reports indicate, the only side interested in Sahin. It seems Bayern Munich and Turkish club Galatasaray are also interested.