Manchester United's Welsh Legend: Twentieth Crown Will be Most Special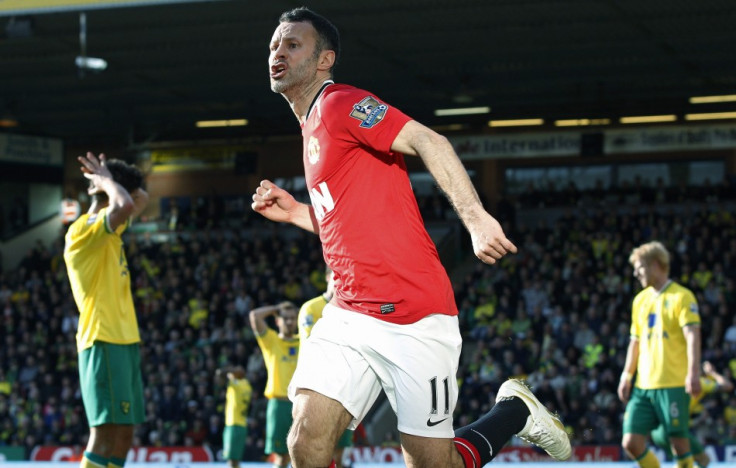 Manchester United veteran Ryan Giggs feels winning the league this season would be a massive achievement for the club, considering the spending power of their rivals Manchester City.
United are on course to win a 20th Premier League crown as they sit eight points clear of City with just six matches to go, having recovered from a six-point deficit at one time.. Giggs, who has 12 league titles himself, believes the difficulties that the team has overcome this term would make the triumph more important.
"To win the title would be huge when you look at the spending power of Manchester City," The Sun quoted Giggs as saying.
"You had to give credit to City at the start of the season as they were playing well and scoring lots of goals. Their key players were performing and they have a great squad, so even if they were going to get injuries or suspensions they were going to handle it," he said.
The 38 year old picked out the loss of experienced players, such as Paul Scholes, at the start of this season and coping with injuries as some of the major challenges that the team faced in the title race.
"We just had to hang in there. But then there's injuries we've had. We've not had the best luck this season - we've had injuries to key players such as (Nemanja) Vidic and (Darren) Fletcher. There was also the experience we've lost. Scholesy for half the season, Edwin van der Sar, John O'Shea, Wes Brown. So a lot of credit has to go to the lads who have stepped in," the midfielder said.
Alhough United have an eight-point lead at the top and only six games are left, Giggs refuses to think that now the team can feel relaxed and believes it's still vital to concentrate on the run-in.
"We are experienced enough to know that there are still plenty of points to be gained and lost. Until it is mathematically impossible for us to be caught, we won't be counting our chickens. We never do. The key word is momentum. What you're looking for is a bit of form at the right time and then feed off positive results and go on a roll. I think we're doing that at the moment," the Welshman added.
© Copyright IBTimes 2023. All rights reserved.