Celebrations are set to take place across the globe to mark the first Nelson Mandela International Day since Madiba's death in December last year.
Mandela Day 2014 will take place on 18 July – Nelson Mandela's birthday – and this year will focus on three themes: literacy; shelter; and food security.
This year's event also marks 20 years since Mandela became president of South Africa, ending three centuries of white rule.
Announcing the programme for this year's celebration, the Nelson Mandela Foundation said food security is a global concern, adding that over 54% of the South African population is not food secure. It hopes to run a three-year programme to deliver food parcels to schools to help those in most need.
Focusing on education and literacy, it plans to develop 67 literacy programmes over the coming year. On shelter, the foundation plans to help build homes and communities to "break the cycle of indignity from one generation to the next".
Celebrations will be taking place across the globe. Concerts are planned in Glasgow's Kelvingrove Art Gallery and Museum, Edinburgh's Festival Theatres and New York's Riverside Church, along with other cities across the globe.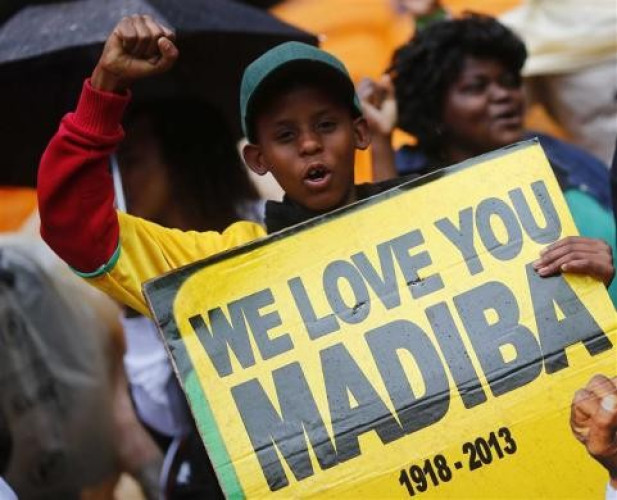 In South Africa, Nelson Mandela Foundation and cinema chain Ster Kinekor have teamed up to put on free screenings of the biopic Long Walk to Freedom in the hope people who watch the film will be inspired to go and help those less fortunate.
Cape Town is hosting five charity events, asking people to come and spend 67 minutes volunteering to mark the 67 years Mandela spent fighting for justice.
Sending a message ahead of Mandela Day 2014, Ban Ki-moon, secretary-general of the United Nations, said: "Last year, the world lost one of its greatest leaders when Nelson Mandela passed away. We remember his legacy especially on his birthday, the 18th of July.
"Apartheid is gone – thanks to Nelson Mandela, countless other individuals and the proud actions of the United Nations. But our planet and its people still face terrible threats - poverty, discrimination, climate change, conflict and more. Nelson Mandela Day is a call to action. Each of us can celebrate this day by helping to address real problems in our communities. Together we can give great meaning to our celebration by paving the way for a better future."
Speaking to the Citizen, the Nelson Mandela Foundation's chief executive Sello Hatang said over 1,000 events will be taking place this year to commemorate the father of the nation: "
Nelson Mandela Foundation's chief executive Sello Hatang said more than 1 000 events connected with the international day had been held this year. "In 2009, we had two cities initiate Mandela Day ... Johannesburg and New York. Fast forward to 2014, we have 126 countries doing something for Mandela Day."