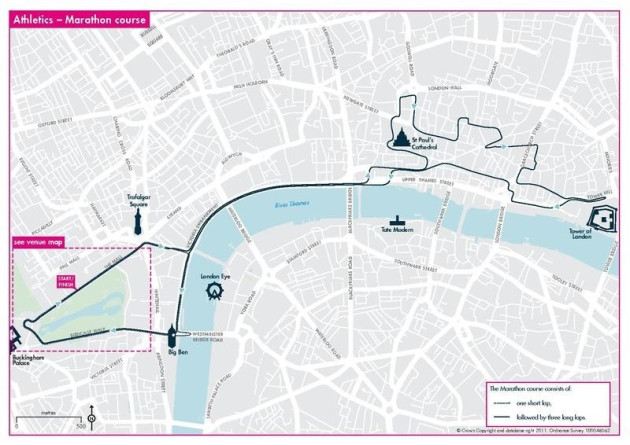 Thousands of fans are expected to flock to central London to watch the men's Olympic marathon, which will see Scott Overall, 29, and Lee Merrien, 33, carrying Britain's hopes after the withdrawal of David Webb with a stress fracture.
Overall and Merrien are up against a strong field, dominated by the Kenyan trio of Wilson Kipsang, Abel Kirui and Geoffrey Mutai, and by the strong 22-year-old Ethiopian Ayele Abshero.
The athletes will be striving to break the world record of 2 hours and 3 minutes, set in 2011 by Kenyan Patrick Musyoki - who did not qualify for the Olympics.
The event will begin at 11am, and will follow the same course as the women's marathon - starting and finishing on the Mall, in front of Buckingham Palace. The course takes athletes past a plethora of historic monuments, including the Tower of London and Victoria Embankment.
Although access to the Mall is ticketed, access to the rest of the course is free. Elsewhere, 27 big screens are showing the action in London - in Hyde Park and Potters Fields, just a few minutes' walk from the course, as well as Hackney's Victoria Park, Walthamstow Town Square and General Gordon Place in Woolwich.
Outside London, a host of regional towns and cities will be beaming the action on to big screen - from Newcastle and Middlesbrough to Portsmouth and Weymouth. Each of the major regional cities - Liverpool, Birmingham, Manchester and Leeds - will have its own giant screen, offering the thrill of the crowd and the buzz of a live atmosphere.
The IBTimes UK has collated the best areas where you can watch the event In London live for nothing:
Victoria Embankment Gardens
Victoria Embankment Gardens are among the best places to see the marathon. Athletes will run the full length of Victoria Embankment from Westminster Bridge to Blackfriars Bridge. The garden will provide a bit of extra space, as well as some shaded repair in case of hot temperatures.
Nettleton Court
Nettleton Court, opposite the Museum of London, offers a dedicated disabled viewing area in the heart of Aldersgate - one of London's most historic wards which takes its name from a gate in the Roman wall around London, thought to have been built almost 2,000 years ago.
St James's Park
The Mall, where the race starts and ends, is accessible only to ticket holders. Nevertheless the track passes by Birdcage Walk, on the other side of the St James's Park, where spectators can cheer on their favourites.
The London Eye
With its amazing view and air-conditioned capsules, the London Eye is an ideal spot for an elevated view of much of the action. Lengthy queues and high ticket prices are the downsides.