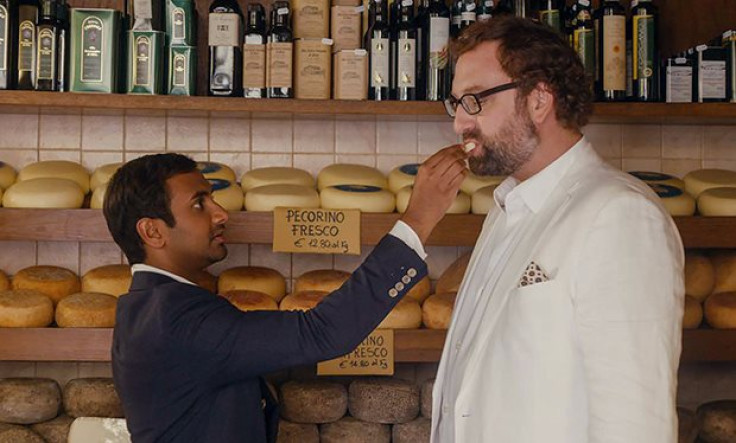 Master of None – the American comedy-drama web series created by Aziz Ansari and Alan Yang – returns to Netflix for a second season today (12 May).
It's a welcome return for erstwhile stand-up Ansari who last hit headlines by famously taking down Donald Trump in his Saturday Night Live monologue one day after his inauguration. However, the writers did not want to reference the president in the second season of Master of None.
"I personally didn't ever want to do it. I liked what we wrote and I didn't want to have him be a part of it," Ansari said at the show's Season 2 premiere on Thursday at the SVA Theatre in New York City.
Online obsessives who have power flexed through season 2 today said it surpasses the first, which is good news for Ansari, who found fame as Tom Haverford on Parks and Recreation. If you happen to be a Master of None fan and a foodie – as a viewer – then the show's return should be even better news for you.
Master of None has garnered a huge global following from fans who have hotly anticipated its second offering for the streaming giant. The writers draw a neat line in characters who tackle the issue of diversity in a simple, enlightening way, devoid of any tokenism.
Ansari sits comfortably in the lead role of Dev – a 30-year-old actor who gently weaves his chilled-out self through a Woody Allen-esque New York in season 1. For the second act, Dev has relocated to Italy where he hangs with best friend Arnold, makes a lot of pasta and, again, pontificates and searches for a love that will stick around.
As the second season feels like it has its own rhythm and a very different vibe from the first, series co-creator Alan Yang says the changes made were all by design.
He tells Vanity Fair: "We just want to be bigger, better, more ambitious. We want to be riskier, challenge ourselves, not repeat ourselves... When we started talking about the episodes and the arc of this season, we said, 'OK, not only do we not want to be like other shows we've seen – we don't want to be like Season 1 now. What can we do to not make it feel like we're repeating a formula?'"..
Yang added: "We just want to do whatever strikes us. Some people have said this – it feels very pretentious to say – but in some reviews, it's like, 'It feels like a bunch of short films.'"
The music also plays a key part in the show's return, with music supervisor Zach Cowie pointing to 60s Italian artists Mina and Pino d'Angio as key to the sounds of season two's opening.
He told Variety: "For our first Italian episode, we shot in black and white, most of the music you hear (besides Mina!) is repurposed Italian film score from the 60s. For our second, full colour Italian episode, we chose Italo disco as our sound. This 1981 banger by Pino d'Angio was our first choice to use for dev and Arnold's scooter/snacking montage."
Pitchfork also notes that other artists' music to feature in the 10 episodes include David Bowie, Kraftwerk, Tupac, Vengaboys and Digable Planets. The show also features a performance from John Legend covering a Michael Jackson classic.
Master of None season 2 is available to watch on Netflix now.