A lawyer who represents victims of sexual offences said the conviction of publicist Max Clifford has proved that Operation Yewtree was not a "celebrity witch-hunt".
Clifford, 71, was found guilty of eight counts of indecent assault following a trial at Southwark Crown Court. The PR guru was cleared of two further counts, with the jury failing to reach a verdict on one more.
Clifford is the first person to be convicted under Operation Yewtree, the Met police inquiry set up to investigate sex offence allegations in the wake of the Jimmy Savile scandal.
Following a number of high-profile arrests, including comedian Jim Davidson and entertainer Jimmy Tarbuck - both later released without charge - Operation Yewtree was accused of attempting to make up for failing to prosecute Savile during his lifetime by arresting celebrities.
Similar accusations were also aimed at the Crown Prosecution Service (CPS) for deciding to bring forward charges against other high-profile names not arrested under Yewtree who were later found not guilty in court, including Coronation Street actors William Roache and Michael Le Vell, former deputy speaker Nigel Evans and former BBC presenter Dave Lee Travis.
However, Liz Dux, who represents more than 150 people who have made complaints under Operation Yewtree, said Clifford's conviction shows how victims of sexual assault should come forward with even if the offences date back decades.
She said: "This verdict proves Yewtree was not a celebrity witch-hunt. Some predatory people used their fame, money and celebrity to groom and then abuse the vulnerable.
"I hope this verdict sends a firm message – no longer will abusers like Clifford be shrouded in silence."
Dux also described the significance of Clifford's conviction for offences which date back to the 1970s.
"Victims now have a voice and Britain will never return to the dark days of the Sixties, Seventies and Eighties.
"It's vital to give confidence to other victims that a conviction can be achieved so many years after an event without DNA or other types of scientific corroboratory evidence."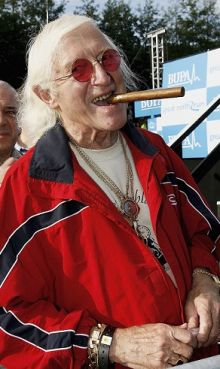 Peter Watt, director of National Services at the NSPCC, described Clifford as a "ruthless and manipulative sex offender". Jenny Hopkins, dept chief Crown Prosecutor for CPS London, said the guilty verdict provided a "long-denied justice to the victims of serious sexual offences".
Clifford is due to be sentenced on 2 May.
Veteran entertainer Rolf Harris is due to stand trial in May accused of 12 counts of indecent assault between 1968 and 1986 having been originally arrested under Yewtree in March 2013.
Having being cleared of 12 counts of indecent assault, Travis faces a retrial over two outstanding charges of indecent assault and sexual assault from his original trial, as well as one additional count of indecent assault.
Radio broadcaster Paul Gambaccini, comedian Freddie Starr and singer Gary Glitter are some of the names currently on bail having being arrested under Yewtree.
David Smith, a former driver for the BBC, was the first person to be charged under Yewtree but killed himself on the eve of his trial for sex offences.